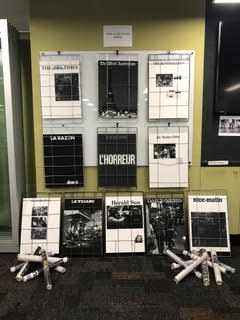 On Wednesday 9th November, Delany College hosted its annual Creative and Performing Arts Night in the new Senior Study area.
The night showcased the immense talent of students at Delany across Years 7 -12 in Music, Visual Arts, Photography and Visual Design. Musical performances, dance and the art exhibition all demonstrated the creativity and versatility of our students.
The College Principal, Mr Robert Muscat, continued the tradition of selecting a Principal's Choice Award which went to Cristian Carniel's HSC Body of Work submission. "L'Horreur: November 13 2015" was a personal response to the terrorist attacks in Paris one year ago. Christian had personal insight since he had been with Delany College's European Visual Arts Tour in Paris at the time. This photomedia piece was based on the headline covers of major newspapers from around the globe. His intention was to highlight the power of the image.
The CAPA Department would like to thank all the students who helped set up the space and Ms Karim's Year 11 Hospitality class for providing the delicious catering on the night.
We can only encourage our students to dig deeper, expand their creativity and surprise us even further next year.
Facebook | Delany
16 Sep 2022

Delany students were invited to attend the Fast Forward Year 11 University Day at Western Sydney University, Liverpool Campus. Students participated in many activities which focused on: → Identification and application of essential transferable skills 💡 → Exploration of career possibilities tailored to personal skill strengths and interests 🏢🧑‍💼 → Developing students' awareness of, and familiarity with, the university environment 🎓 The day ended with a creative RAP performance highlighting the positive impact of future study 📜 and pathways beyond school.

15 Sep 2022

It's a battlefield out there... when Mr Zagas' Y11 Modern History class creatively used classroom tables and nerf guns 🔫 on our field area to simulate charging a machine gun bunker in World War One's Western Front ⚔️💣