Delany College student recognised for excellence
24 Sep 2014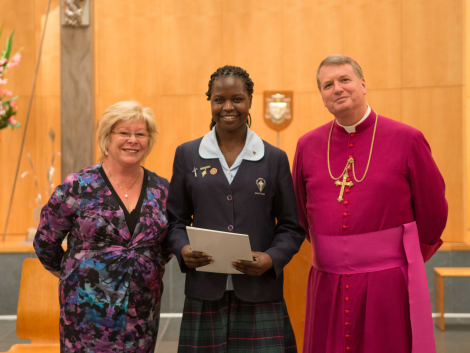 Santa Mandera with Sue Walsh and Bishop Anthony Fisher OP
Santa Mandera from Delany College was awarded the annual Bishop of Parramatta Awards for Student Excellence, which recognise the religious and academic achievement of senior secondary students across the Diocese of Parramatta.
Santa is the Captain of Delany College as well as the President of the St Vincent de Paul chapter. These positions reflect Santa's academic standing, her leadership qualities and her commitment to social justice issues and the welfare of the marginalised in our society.
Santa travelled to Brazil as a participant in World Youth Day 2013. Her exemplary leadership skills are demonstrated by her coordination of many door-knock appeals, Vinnies Van activities and the annual Delany Christmas hamper collection.
Santa is also a very fluent public speaker and skilled mock-trial participant. Her exceptional qualities as a leader, as an advocate for the marginalised and her ability to work selflessly as a team member, make her a deserving recipient of this award.
Facebook | Delany
16 Sep 2022

Delany students were invited to attend the Fast Forward Year 11 University Day at Western Sydney University, Liverpool Campus. Students participated in many activities which focused on: → Identification and application of essential transferable skills 💡 → Exploration of career possibilities tailored to personal skill strengths and interests 🏢🧑‍💼 → Developing students' awareness of, and familiarity with, the university environment 🎓 The day ended with a creative RAP performance highlighting the positive impact of future study 📜 and pathways beyond school.

15 Sep 2022

It's a battlefield out there... when Mr Zagas' Y11 Modern History class creatively used classroom tables and nerf guns 🔫 on our field area to simulate charging a machine gun bunker in World War One's Western Front ⚔️💣