Delany Connective awarded for Outstanding Contribution to Education
14 Oct 2015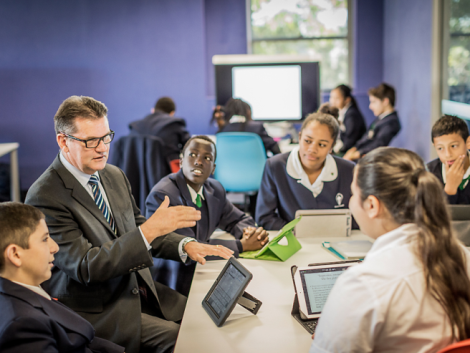 Peter Wade learning with students at the Delany Connective
On 6 October 2015, Delany College, Granville's Principal Peter Wade received the Award for Outstanding Contribution to Education, presented by the Asian Education Leadership Awards.
The Award recognised Delany's work with the Delany Connective which is delivering a new model of schooling to meet the needs of today's learners and equip them with the skills and knowledge to thrive in a connected, global world.

Students are able to collaborate
Three traditional classrooms have been opened up and modernised to create a contemporary learning environment which brings together video conferencing, wireless mobile devices, interactive desks and cloud-based software applications.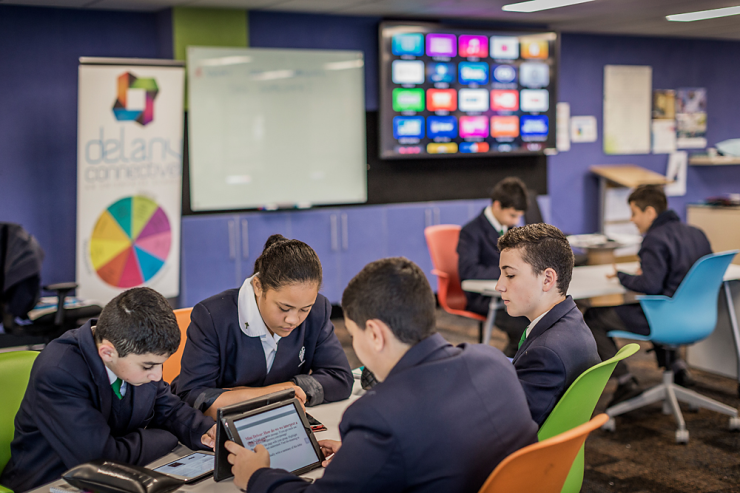 Students working in the Delany Connective.
Peter said he was pleased to be able to accept this award on behalf of the extraordinary team who he works with and who make the Delany Connective so successful.
'Any leader will tell you that igniting enthusiasm for educational change is the easy part, but doing the work day by day and taking a team along the journey of transformational student learning is the work,' Peter said. 'A project so important in the lives of students and their learning, cannot succeed without the extraordinary work of the staff at the College, and the immense support we have received from Telstra and the Catholic Education Office, Parramatta.'
'Really this award is a reflection of the unique partnerships that have come together and this includes the leadership of Mark Hopkins and Miranda Jefferson,' he said.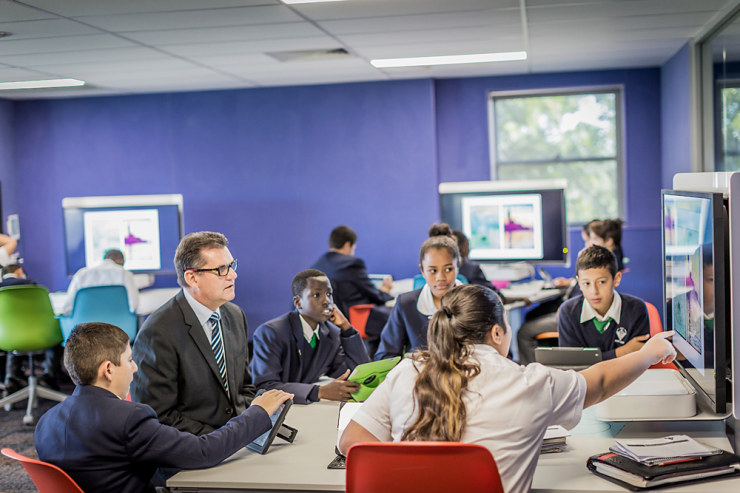 Students and Peter Wade learning together.
Teaching Educator Challenging Pedagogy Dr Miranda Jefferson said the transformation of learning at Delany College in Years 7 and 8 has been a result of teachers, school leadership and students truly living the principles of the 4C's: Creativity, collaboration, communication and critical thinking.
'By engaging with research and questioning traditional practices in education, Delany has courageously innovated in pedagogy and curriculum delivery,' Miranda said. 'In doing so they have dramatically realised the potential of their students.'
'This is evident in the student's results and their newfound confidence and engagement with 21st century learning capabilities,' she said.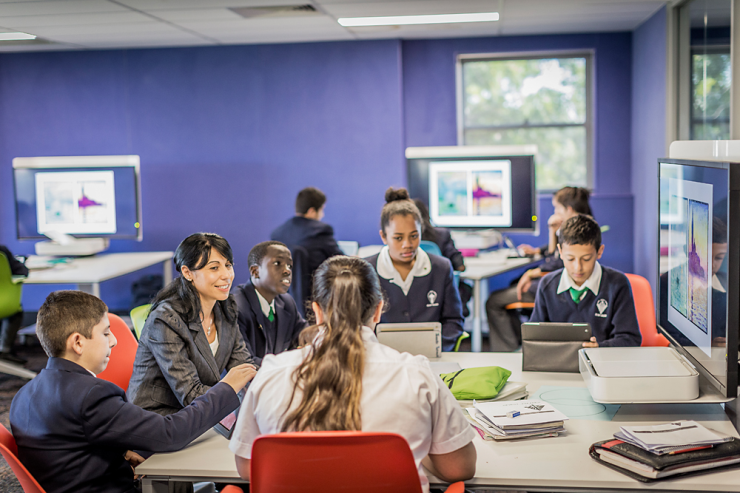 Students are able to collaborate with their peers.
Delany's Leader of Connective Learning Ivanka Rancic said the program was initially responding to the needs of kids.
'We wanted to be meeting them where they are at,' Ivanka said. 'I've become a better teacher, a better person.'
This award comes on the back of the recent trip Peter and Ivanka took to the Digital Education Show Middle East 2015, in Dubai.
'I was recharged with ideas, inspirational speakers and networking with other professionals who have a similar vision like the Delany Connective,' Ivanka said. 'I believe Teachers are the leaders of innovation and change.'
'Innovation is changing the way you do and see things; and it is in asking yourself how can I do this differently, how will my students engage and be immersed in deep learning,' she said. 'It is about changing perspectives and adopting new ways of seeing and doing.'
'Dubai was about connecting, developing and empowering educators from all around the world,' she said. 'Networking with all different educators from schools to universities was exciting, developing new working relationships and collaborating with many geniuses and therefore the ideas for learning and engagement was mind blowing.'
'Networking enabled to pool human resources together and share each other's success and challenges,' she said.
Facebook | Delany
16 Sep 2022

Delany students were invited to attend the Fast Forward Year 11 University Day at Western Sydney University, Liverpool Campus. Students participated in many activities which focused on: → Identification and application of essential transferable skills 💡 → Exploration of career possibilities tailored to personal skill strengths and interests 🏢🧑‍💼 → Developing students' awareness of, and familiarity with, the university environment 🎓 The day ended with a creative RAP performance highlighting the positive impact of future study 📜 and pathways beyond school.

15 Sep 2022

It's a battlefield out there... when Mr Zagas' Y11 Modern History class creatively used classroom tables and nerf guns 🔫 on our field area to simulate charging a machine gun bunker in World War One's Western Front ⚔️💣