Delany Partnering with the University of Western Sydney
24 Jul 2015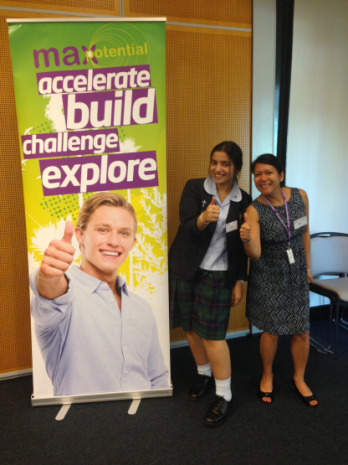 ,/p>
Delany College has partnered with the University of Western Sydney's School of Business and Max Potential, to provide personal leadership coaching for some of our students as a way of preparing them for the HSC and life after school.
Max Potential is aimed at emerging young leaders, equipping them to see their potential and move toward authentic success in all areas of life, including academically.
Over the past few months Year 11 student, Angela Younan, has been receiving individual coaching sessions on personal leadership, as well as attending group workshops along with a number of other Year 11 students from schools across Parramatta.
Angela has been coached by a representative from Student Life, part of the Parramatta Business Community. Students are currently in the final stages of the program which involves completing a Community Service Project they have each designed themselves.
Students will be sharing their learning experiences and the impact of their Community Service Projects at a combined Showcase event through spaces creatively designed by the students.
Please come along and support Angelaand be inspired by the creative thinking of our next generation of young leaders.
When: Tuesday 11th August 2015
Where: EB.G.02 UWS Parramatta South Campus (Cnr James Ruse Dr & Victoria Rd)
Time: 3-5pm -Light Refreshments served, Official Welcome and Showcase 3:45pm
For more details or to RSVP please contact Mel Hanger by phone on 0419 515 005 or email mel@futureachievementaustralia.com.au
Facebook | Delany
16 Sep 2022

Delany students were invited to attend the Fast Forward Year 11 University Day at Western Sydney University, Liverpool Campus. Students participated in many activities which focused on: → Identification and application of essential transferable skills 💡 → Exploration of career possibilities tailored to personal skill strengths and interests 🏢🧑‍💼 → Developing students' awareness of, and familiarity with, the university environment 🎓 The day ended with a creative RAP performance highlighting the positive impact of future study 📜 and pathways beyond school.

15 Sep 2022

It's a battlefield out there... when Mr Zagas' Y11 Modern History class creatively used classroom tables and nerf guns 🔫 on our field area to simulate charging a machine gun bunker in World War One's Western Front ⚔️💣