Delany's Social Justice Team attend the Interschool Social Justice Conference
11 Aug 2015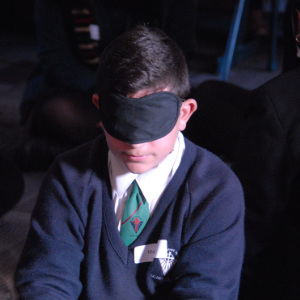 KidsView Social Justice Conference
On Friday 7th August, ten Year 8 and 9 Delany students had the opportunity to participate in an engaging social justice conference. KidsView Interschool Social Justice Conference highlighted the challenges facing people living in poverty, particularly in the Philippines.
The students interacted with their peers in workshops held throughout the day.
Our students returned to school recognising their role in the global community and believing in their power to be change makers.
Activities included students being blindfolded, and imagining the world's resources were redistributed. Matthew represented the Delany group, with almost no resources. This activity challenged students to understand the connection between wealth, education and power.
Playing the 'Health Game' gave students the opportunity to discuss the consequences of extreme poverty. The students adopted the identity of a child based on their wealth status.
Delany students enjoyed collaborating with their peers from other schools and learning about how they can help those who are less fortunate
Facebook | Delany
16 Sep 2022

Delany students were invited to attend the Fast Forward Year 11 University Day at Western Sydney University, Liverpool Campus. Students participated in many activities which focused on: → Identification and application of essential transferable skills 💡 → Exploration of career possibilities tailored to personal skill strengths and interests 🏢🧑‍💼 → Developing students' awareness of, and familiarity with, the university environment 🎓 The day ended with a creative RAP performance highlighting the positive impact of future study 📜 and pathways beyond school.

15 Sep 2022

It's a battlefield out there... when Mr Zagas' Y11 Modern History class creatively used classroom tables and nerf guns 🔫 on our field area to simulate charging a machine gun bunker in World War One's Western Front ⚔️💣