Dr Karl Donates Science Books to Delany
19 Mar 2015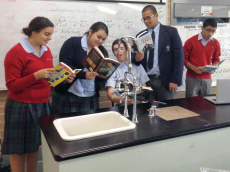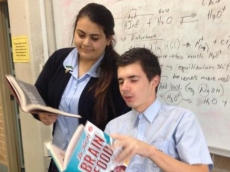 Well known science and media personality, Dr Karl Kruszelnicki, AM, has donated six of his bestselling popular science books to Delany College.
The books explain and debunk everyday science and are really funny to read.
Lucky year 7 Science students at Delany will have the opportunity to personally ask Dr Karl questions next week when they will hold a live Skype video call with him. Dr Karl has been a guest speaker at many schools around the world and genuinely values the effect empowering students with a love of knowledge can have. We look forward to hearing what questions the Year 7 students have for Dr Karl.
Some of our senior students checked them out quickly before handing them over.
Facebook | Delany
16 Sep 2022

Delany students were invited to attend the Fast Forward Year 11 University Day at Western Sydney University, Liverpool Campus. Students participated in many activities which focused on: → Identification and application of essential transferable skills 💡 → Exploration of career possibilities tailored to personal skill strengths and interests 🏢🧑‍💼 → Developing students' awareness of, and familiarity with, the university environment 🎓 The day ended with a creative RAP performance highlighting the positive impact of future study 📜 and pathways beyond school.

15 Sep 2022

It's a battlefield out there... when Mr Zagas' Y11 Modern History class creatively used classroom tables and nerf guns 🔫 on our field area to simulate charging a machine gun bunker in World War One's Western Front ⚔️💣