Exploring Gallipoli with Delany
23 Apr 2015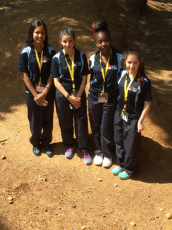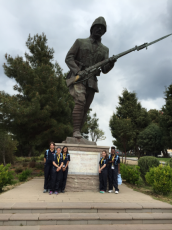 Below is a copy email from Mrs Venhuizen. Enjoy!
We have had a busy couple of days and are learning lots. Yesterday we stood on the beach where the Anzacs landed and visited the cemeteries. The soldiers were buried near where they died, so some sites have dozens of graves and others only a few. We found Simpson's grave, then wandered and read many others. Some inscriptions break your heart to read but help to understand the soldiers' stories.
Seeing the topography of the land firsthand helps to learn the difficulty impossible nature of the military objective for the Anzacs. The students did not complain, but it was a workout to walk to the top of the ridge, straight up, in the footsteps of the Troops. We at least had a path; they mostly crawled up. The century old trenches are still carved in the landscape and it was eerie to walk in them and find bits of barbed wire etc still there
We are also learning from the Turkish perspective - their stories of heroism and a different version of some of the events. Our guide is Turkish but our historian is British - good for the students to see differences yet conclude that both narratives are valid. It rained in the afternoon so our media appointment was postponed and instead we went to this very cool brand new museum which uses 3d technology etc to put you in the battle. When the canon turned on us and fired it is amazing how many rational adults screamed.
Our historian said these kids are the best he has seen - 'a purposeful group of young people with insightful questions'. As you would expect, the Delany girls are shining.
Mrs Venhuizen
Facebook | Delany
16 Sep 2022

Delany students were invited to attend the Fast Forward Year 11 University Day at Western Sydney University, Liverpool Campus. Students participated in many activities which focused on: → Identification and application of essential transferable skills 💡 → Exploration of career possibilities tailored to personal skill strengths and interests 🏢🧑‍💼 → Developing students' awareness of, and familiarity with, the university environment 🎓 The day ended with a creative RAP performance highlighting the positive impact of future study 📜 and pathways beyond school.

15 Sep 2022

It's a battlefield out there... when Mr Zagas' Y11 Modern History class creatively used classroom tables and nerf guns 🔫 on our field area to simulate charging a machine gun bunker in World War One's Western Front ⚔️💣