Greening Delany Project
05 Jun 2015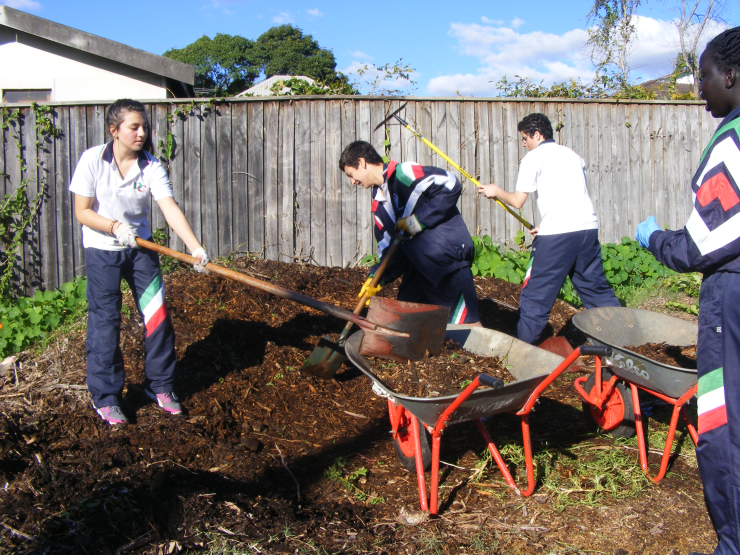 Students working together on the Greening Delany Project.
For World Environment Day on Friday 5 June, we took a look at what Delany College in Granville has been doing to reduce their carbon footprint, improve sustainability and contribute positively to the environment all year round.
The Greening Delany Project was established in June 2011, and aims to utilise and maintain unused vacant land through recycling, reusing and repurposing practices
The area includes an outdoor learning space, a kitchen garden including vegetables and herbs, a mini orchard, water harvesting abilities, composting, worm farming and native gardens.
There is also a Sacred Space which is available to all staff and students that is a place of healthy reflection. The outdoor learning space provides a green alternative classroom environment.
Vegetable waste from the school's Hospitality kitchens and the canteen is used to develop compost and worm farming techniques, which is used to improve the health of the gardens.
Water has been harvested by diverting the existing rainwater from the adjacent College building into water tanks. This water is then used to irrigate the plants and gardens of the outdoor area.
Delany have also acquired exercise equipment for students and staff to use in the outdoor space. This can be used for individuals, classes or sporting activities.
Delany's Senior School Officer, Tracey Flynn said the green spaces have provided the students with a hands-on way of engaging with environmental studies and a new way of learning and teaching.
'Students are learning how to reuse and recycle a variety of products to produce a sustainable garden area,' Tracey said. 'They have been involved in the planting, weeding, harvesting and general maintenance of the area.'
'We are hoping it will continue its growth as a lasting legacy for the community,' she said.
Facebook | Delany
16 Sep 2022

Delany students were invited to attend the Fast Forward Year 11 University Day at Western Sydney University, Liverpool Campus. Students participated in many activities which focused on: → Identification and application of essential transferable skills 💡 → Exploration of career possibilities tailored to personal skill strengths and interests 🏢🧑‍💼 → Developing students' awareness of, and familiarity with, the university environment 🎓 The day ended with a creative RAP performance highlighting the positive impact of future study 📜 and pathways beyond school.

15 Sep 2022

It's a battlefield out there... when Mr Zagas' Y11 Modern History class creatively used classroom tables and nerf guns 🔫 on our field area to simulate charging a machine gun bunker in World War One's Western Front ⚔️💣