RE Review: Faith in the future of Catholic schooling
16 Jun 2014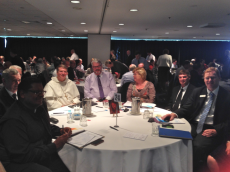 Bishop Anthong Fischer OP and Greg Whitby
at the RE Review Forum.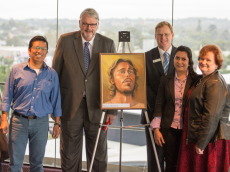 Artist, Nelson Colo Matoma produced 'Thirteen
Faces of Jesus' artworks
The findings and recommendations of the Review of Religious Education for Catholic Education Diocese of Parramatta were presented to a forum of over 200 parish priests, principals and Religious Education coordinators on 5 June at Rosehill Gardens.
Conducted by the University of Notre Dame Australia (UNDA), for the Bishop of Parramatta, Anthony Fisher OP, the review relied on survey data, interviews and classroom observations.
Providing a thorough analysis of the effectiveness of the current RE curriculum in relation to current teaching practice and theology, the review made 11 recommendations.
The principle findings indicated that the diocese should:
redevelop the Religious Education curriculum to include contemporary learning and teaching strategies that are student-centred, hands-on and provide greater choice to cater for diversity
deepen and support the faith formation of school leaders, staff and students particularly in the celebration of the Sacraments
ensure greater integration and collaboration with parish priests
provide ongoing professional learning for teachers of Religious Education
foster greater religious literacy in our schools by teachers and staff modeling their authentic faith to students.
Presenting the above findings, Dr Gerard O'Shea from the School of Education, University of Notre Dame Australia, spoke in depth about the vital role the Sacraments play in passing on the faith of the Church and what might be required to enhance the role of Religious Education in our schools.
'Religious Education requires a suitable environment, attractive presentation and integration of every dimension of a person within a community,' said Dr O'Shea. 'What aspects of contemporary learning and teaching still need to find their way into classroom practice in Religious Education?,' he asked.
In his response to the findings, Bishop Anthony quoted the recently published Vatican document on Catholic Education entitled, Educating Today and Tomorrow: Renewing a Passion.
'At the heart of Catholic education there is always Jesus Christ: everything that happens in Catholic schools … should lead to an encounter with the living Christ,' said Bishop Anthony. 'Catholic schools are places "of testimony and acceptance, where faith and spiritual accompaniment can be provided to young people", places "where the transmission of knowledge is key" but as part of "an integral education … that includes religious formation … [that helps] young people realise the beauty of faith in Jesus Christ and of religious freedom in a multi-religious universe".
'And if this is to happen, "Catholic educators will have to be credible witnesses",' he said.
Bishop Anthony launched several new initiatives including plans to support the faith formation of our teachers and encouraging a greater relationship between schools and parishes. Including:
Beginning teachers overnight retreat
Annual Evangelisation retreat for school staff
Working part on enriching school parish relationships
2014 Visit by Sherry Weddell, author of Forming International Disciples – the path to knowing and following Jesus
2015 Visit by Archbishop Michael Miller, Archbishop of Vancouver, Canada and author of several books including The Holy See's Teaching on Catholic Schools
2015 Vatican Conference on Catholic Education
Bishop Fisher formally called upon the Executive Director of Schools, Greg Whitby to accept findings of the Religious Education Review and act upon them.
'Today I commission Greg Whitby with his team to investigate an alternative to "Studies of Religion", so that our students may complete their Catholic schooling with a Board-approved course in Catholic Studies that reinforces and capitalises on their RE experience across their school life, and assists them towards further education as other Board-developed courses do,' said Bishop Anthony. 'I am convinced we can do better by our students in their final years before they enter a world that may challenge their faith deeply."
'The RE Review also recognises the challenge of raising up new leaders for Catholic education,' he said. 'I therefore also ask Greg Whitby and his team to investigate what structural and formative changes would better support the religious leadership of our priests, principals and RECs and assist in identifying and forming the next generation of leaders.'
'To this end I am pleased to announce that a new program will be introduced in 2015 for teachers who begin a leadership role for the first time,' Bishop Anthony said. 'We will also be introducing a new program for Religious Education Coordinators. Called FIDES (Forming Intentional Disciples in Every School). It will build the capacity of RECs to form intentional disciples and focus on collaborative leadership, mentoring and formation of staff.'
Executive Director of Schools, Greg Whitby, welcomed the Review findings and accepted the Bishop's call to reimagine Religious Education in line with contemporary educational practice and in the context of new evangelisation.
'The review provided an opportunity to reflect on good practice in both curriculum and teaching in our schools,' said Greg.
'We know reflection on practice leads to improvement in learning outcomes and helps us to identify new models and ways of enhancing the good work in our schools.'
'Catholic schools are at a crossroads and this review challenges us to not only be evangelisers but to understand the need for a New Evangelisation to strengthen the formation of staff and students,' he said.
A special highlight of the forum was the launch of 13 specially commissioned portraits called the Faces of Jesus by Colombian artist, Nelson Colo Matoma.
Speaking at the unveiling, Greg Whitby said that art provided a special insight into the sacred and these lovingly produced works would be a gift to the schools that would use them as a Religious Education resource.
The artist, who has provided works for the Wollongong Diocese Lenten program, said he painted from the heart.
'I hope when children look upon the faces of Jesus they will be humbled at how he suffered for us and be grateful for all they have,' said Nelson.
---

Click here to read the full Review of Religious Education

Click here to read the full address by Bishop Anthony Fischer OP
Facebook | Delany
16 Sep 2022

Delany students were invited to attend the Fast Forward Year 11 University Day at Western Sydney University, Liverpool Campus. Students participated in many activities which focused on: → Identification and application of essential transferable skills 💡 → Exploration of career possibilities tailored to personal skill strengths and interests 🏢🧑‍💼 → Developing students' awareness of, and familiarity with, the university environment 🎓 The day ended with a creative RAP performance highlighting the positive impact of future study 📜 and pathways beyond school.

15 Sep 2022

It's a battlefield out there... when Mr Zagas' Y11 Modern History class creatively used classroom tables and nerf guns 🔫 on our field area to simulate charging a machine gun bunker in World War One's Western Front ⚔️💣