Trade training at school provides head start in critical trade areas
16 Jun 2014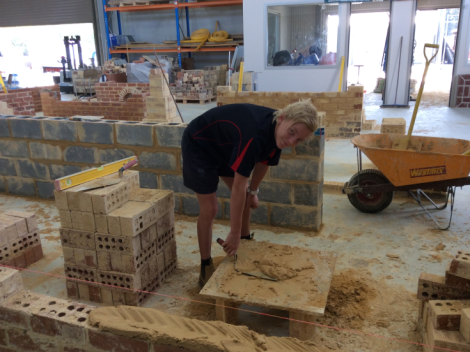 McCarthy Catholic Trade Training Centre assistant principal, John Wills, said trade training courses are not only a great employment pathway for secondary students, they also help to address the skills shortage in trades such as brick and blocklaying.

'Students have the opportunity to complete their Higher School Certificate while they start their trade course,' said John. 'They also have the opportunity to undertake a school-based apprenticeship.'

'For trades such as Brick and Block Laying, where there is a critical skills shortage, students are pretty much guaranteed employement,' he said.

'The Australian Bricklaying and Blocklaying Training foundation have been very supportive in helping us place our students in apprenticeships.'

Catholic Education's two Catholic Trade Training Centres (CTTCs) at McCarthy Catholic College, Emu Plains and Loyola Senior High School, Mt Druitt held successful open days this month to showcase their broad range of trade training opportunities.

Several hundred families visited the CTTCs and took home information packs for courses commencing in 2015.

CTTCs provide a flexible schooling experience for Year 11 and 12 students wanting to pursue a career in a vocational field. Students have the benefit of a wider range of career options at the end of their HSC year, obtaining a Statement of Attainment towards a trade qualification and a HSC, as well as significant experience in paid work placement.

Current trades include Hairdressing, Hospitality – Commercial Cookery, Electrotechnology, Automotive – Light Vehicle Servicing, Carpentry, Shop Fitting – Joinery, Brick and Block Laying, Engineering – Metal Fabrication, Telecommunications, Children's Services – Childcare, Plumbing and Beauty. Other trade opportunities are also available.

Students learn in state-of-the-art-facilities and have a flexible timetable that consists of work, trade training and HSC study.

Loyola Catholic Trade Training Centre's assistant principal, Tammy Prestage, said the feedback from the information evenings was outstanding.

'I am so proud of the staff and students who showcased the great trade programs we offer and look forward to supporting our new trade students in 2015,' said Tammy.

For more information about Catholic Trade Training Centres or enrol by 27 June this year for commencement in 2015, visit www.cttc.com.au or phone McCarthy Catholic Trade Training Centre, Emu Plains 02 4735 3211 / Loyola Catholic Trade Training Centre, Mt Druitt 02 9407 7081.

View the video below to hear from students and employers engaged in the trade training program.
Facebook | Delany
16 Sep 2022

Delany students were invited to attend the Fast Forward Year 11 University Day at Western Sydney University, Liverpool Campus. Students participated in many activities which focused on: → Identification and application of essential transferable skills 💡 → Exploration of career possibilities tailored to personal skill strengths and interests 🏢🧑‍💼 → Developing students' awareness of, and familiarity with, the university environment 🎓 The day ended with a creative RAP performance highlighting the positive impact of future study 📜 and pathways beyond school.

15 Sep 2022

It's a battlefield out there... when Mr Zagas' Y11 Modern History class creatively used classroom tables and nerf guns 🔫 on our field area to simulate charging a machine gun bunker in World War One's Western Front ⚔️💣