Delany Connective Launch
11 Sep 2014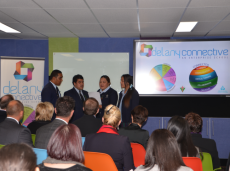 Delany Choir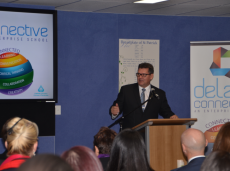 Peter Wade, Principal
Today, we saw the official launch of the Delany Connective, a connected classroom to support new and innovative teaching and learning methodologies at the College.
On arrival, the Delany Choir treated guests to a moving rendition of the Deers Cry.
In his welcome, Principal, Peter Wade, quoted directly from Robert Fulgham's, All I Really Need to Know I Learned in Kindergarten. He spoke about the need to hold hands and stick together and encouraged the current Year 7s to work on this for the next 5 1/2 years while at Delany College. He thanked the team of Delany teachers who lead the learning each day, as well as Catholic Education and Telstra who have worked with the College and provided these wonderful opportunities.
Greg Whitby, Executive Director Catholic Education Parramatta, spoke about the wonderful partnership between Catholic Education, Delany College and Telstra to make the Delany Connective a reality. He commended Peter Wade for being a Principal who actually teaches each day.
We also heard from Brendon Riley from Telstra and Dr Miranda Jefferson from Catholic Education before Fr Chris D'Souza declared the Delany Connective open.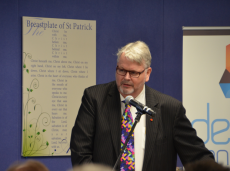 Executive Director of Schools, Greg Whitby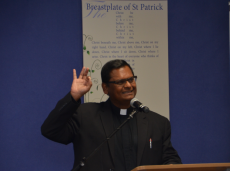 Fr Chris D'Souza
We were privileged to welcome a number of guests to the Delany Connective, including Counsellor Tony Issa, OAM, Br Peter Ryan, Br Aengus Kavanagh, and many parents and friends of the community. Year 7 Ambassadors guided the guests through the new learning space, while students worked in groups showcasing their most recent projects. We look forward to continuing our great partnerships through ongoing communication, collaboration, critical thinking and creativity.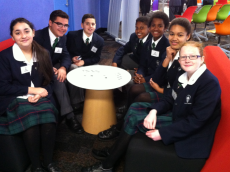 Year 7 Ambassadors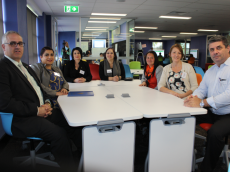 Parent Representatives
Facebook | Delany
16 Sep 2022

Delany students were invited to attend the Fast Forward Year 11 University Day at Western Sydney University, Liverpool Campus. Students participated in many activities which focused on: → Identification and application of essential transferable skills 💡 → Exploration of career possibilities tailored to personal skill strengths and interests 🏢🧑‍💼 → Developing students' awareness of, and familiarity with, the university environment 🎓 The day ended with a creative RAP performance highlighting the positive impact of future study 📜 and pathways beyond school.

15 Sep 2022

It's a battlefield out there... when Mr Zagas' Y11 Modern History class creatively used classroom tables and nerf guns 🔫 on our field area to simulate charging a machine gun bunker in World War One's Western Front ⚔️💣