Delany students offer top tips for HSC
18 Feb 2022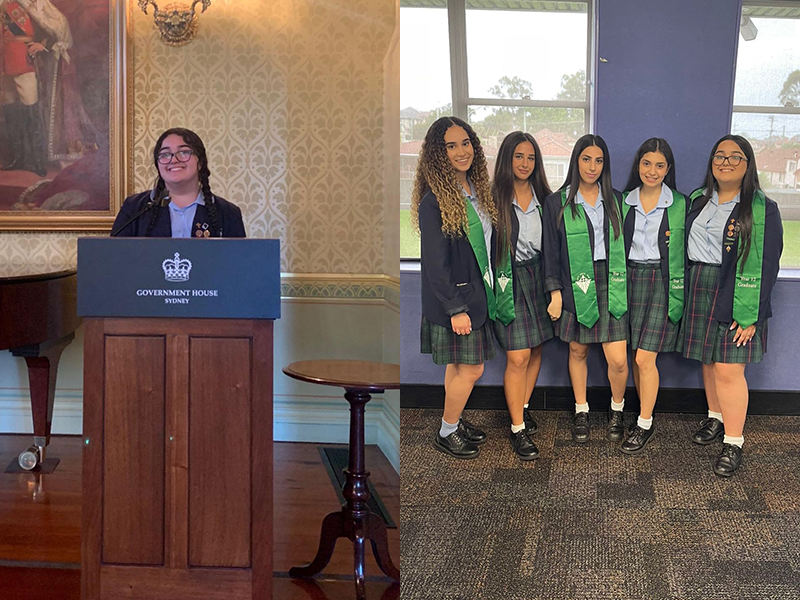 The graduating class at Delany College Granville has maintained great optimism throughout 2021, persevering through remote learning and lockdown to achieve high success in the HSC.
Delany students Naomi Habib and Joel Carder both received Band 6 results in which they shared their advice for achieving a similar top tier outcome.
Naomi Habib scored a 93.95 ATAR with a Band 6 in Society and Culture as well as English Extension 1 & 2, attributing her secret to success to regularly updating study notes and preparing for any upcoming assessment tasks well in advance.
"After every lesson, I was writing up the notes for that set dot point of the syllabus" she said. "When trials and the exam hit, I wasn't writing my notes, I wasn't trying to relearn them, I was consolidating the information and confirming that I knew what I needed to know".
After what can only be described as a disruptive year, Naomi remains optimistic with plans to News Detailstudy a Bachelor of Arts and Law at the University of New South Wales in which her diligence and time-management skills will no doubt play an effective role in her future success.
Similarly, 2021 student Joel Carder wishes to pursue further academic study through his entry into the Australian Catholic University for a double degree in Sport and Exercise Science & Nutrition Science after achieving a Band 6 in Industrial Technology.
Juggling multiple commitments, Joel emphasises the importance of teamwork throughout his HSC journey. Recognising the HSC as a collective experience, Joel identifies the need to bounce off peers and teachers alike in order to receive quality support and feedback from one another.
"I had work, I had school, I had leadership and outside of school I was also coaching younger kids" he said.
The only way you really can manage it is through teamwork, work as a team, work with the people around you
The caring school's new Principal Shauna Nash has strong aspirations for young people from Western Sydney and feels that the outstanding results of last year's Year 12 students show what Delany students can do.
"We're so proud of the achievements of our Delany Class of 2021," Shauna said. "They are such powerful ambassadors for our community through their persistence and resilience."
Facebook | Delany
16 Sep 2022

Delany students were invited to attend the Fast Forward Year 11 University Day at Western Sydney University, Liverpool Campus. Students participated in many activities which focused on: → Identification and application of essential transferable skills 💡 → Exploration of career possibilities tailored to personal skill strengths and interests 🏢🧑‍💼 → Developing students' awareness of, and familiarity with, the university environment 🎓 The day ended with a creative RAP performance highlighting the positive impact of future study 📜 and pathways beyond school.

15 Sep 2022

It's a battlefield out there... when Mr Zagas' Y11 Modern History class creatively used classroom tables and nerf guns 🔫 on our field area to simulate charging a machine gun bunker in World War One's Western Front ⚔️💣