Delany's basketballers shoot for the stars
07 Sep 2017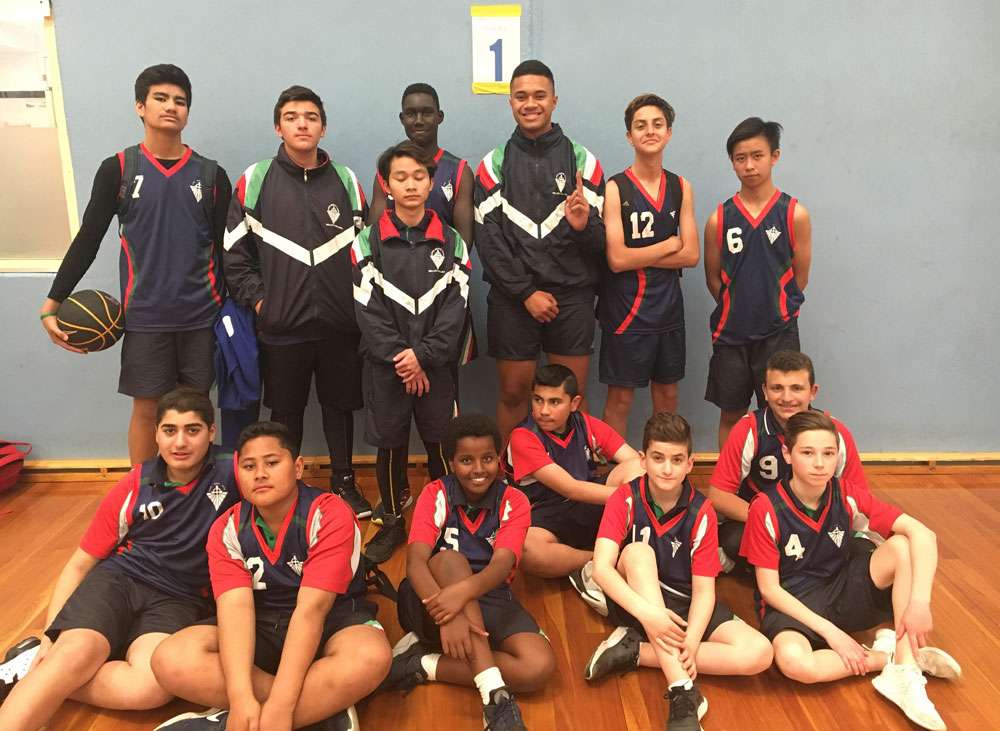 Delany students took to the court at an inter-school Boys Basketball Gala Day held at Penrith Valley Regional Sports Centre on Monday 4 September. The event is organised by the Parramatta Diocese Secondary Schools Sports Council (PDSSSC). Delany College was represented by two teams, who took up the challenge with energy and enthusiasm.

On the Junior Team were: Mark Bou Francis, Joshua Carniel, Samuel Kidane, Elias Issa, Noa Luitai, Miguel Pupualii, Brayde Roebeck and Brandon Zaiter.

Intermediate Team members were: Andrew Francisco, Kuach Mathiang, Terancis Moaga, Gavin Mrish, Brandon Nguyen, Adam Nguyen (who was sick on the day) and Masoud Rashvand.

In a fast-paced competition, the Juniors saved their best till last, winning the final game of the day after the buzzer with a free throw from Josh Carniel. They finished seventh of eight teams.

Although they were one player down on the day, the Intermediate Team gave it their all, putting their best efforts into every game. They finished eighth of eight teams.

Both teams revealed a depth of talent with a number of different players taking the lead in each game. In the Juniors, there were strong performances from an energetic Noa and Brandon in defence.

In the Intermediates, Kuach was on the offensive and all rounder Gavin played an energetic game. Cheering everyone on from the sidelines was Sim in Year 11, the number one supporter.

In the best tradition of fair play, team members cheered for each other and their opponents.


Click here to view more photos of the Intermediate Team for Basketball Gala Day
Click here to view more photos from the Junior Team for Basketball Gala Day
---
The Parramatta Diocese Secondary Schools Sports Council (PDSSSC) provides the avenue for students across the Diocese to experience most individual and team sports. It also gives students, depending on their ability, the chance to play in competition against other schools in the Diocese during the weekly inter-school sports afternoon or to trial for PDSSSC teams/squads to compete in New South Wales Combined Colleges events against other Catholic schools students across the state.
From these events there is also the opportunity for talented athletes to compete at NSW All Schools, alongside their state and independent school peers. Further is the opportunity to represent New South Wales All Schools at School Sport Australia events across the country.
Facebook | Delany
16 Sep 2022

Delany students were invited to attend the Fast Forward Year 11 University Day at Western Sydney University, Liverpool Campus. Students participated in many activities which focused on: → Identification and application of essential transferable skills 💡 → Exploration of career possibilities tailored to personal skill strengths and interests 🏢🧑‍💼 → Developing students' awareness of, and familiarity with, the university environment 🎓 The day ended with a creative RAP performance highlighting the positive impact of future study 📜 and pathways beyond school.

15 Sep 2022

It's a battlefield out there... when Mr Zagas' Y11 Modern History class creatively used classroom tables and nerf guns 🔫 on our field area to simulate charging a machine gun bunker in World War One's Western Front ⚔️💣