The Premier's Anzac Memorial Scholarship (PAMS)
19 Jul 2017
On Wednesday 29th March at our College assembly, Mr Robert Muscat , Principal, announced that the successful candidate for the scholarship is Mary Ghribian of Year 10. Mary was one of a number of outstanding candidates who presented work submissions of a very high standard to a community Panel who heard the presentations as part of a rigorous selection process.
Other exceptional candidates included Vincent Tuala, Yara Fakoua, Elizabeth Kondok and Rasha Abouhalka, all of whom received commendations for the high quality of their submissions, however only one scholarship was available.
Mary created a model reproducing three battlefields, complete with trenches, sandbags, soldiers, nurses' kit, poppies and contoured terrain. Mary added blindfolds to her miniature soldiers and explained "this is a metaphor for stepping into the unknown". Mary's soldiers were also painted different colours; "this is a metaphor for the different emotions they felt", she said. Mary also identified why it is important to commemorate and recognise past war efforts, making references to other tragedies, such as the Armenian genocide. Mary also included a Folio, illustrating the progression of ideas in her project and details of her research.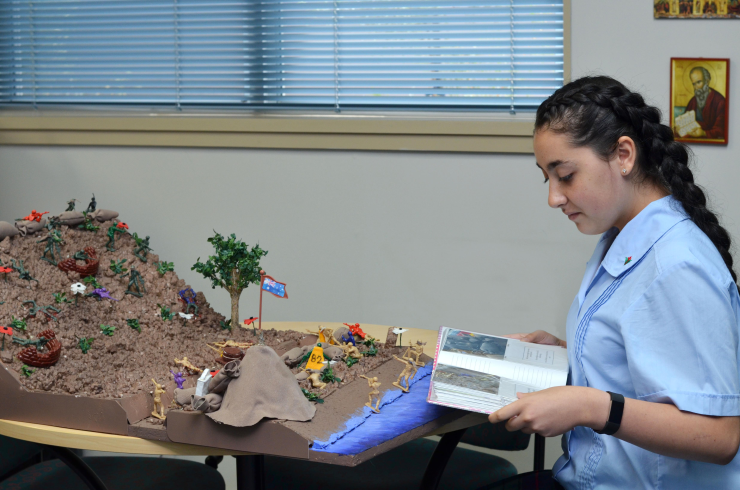 Mary has won an all-expenses paid trip to Europe in 2017, courtesy of the NSW Premier and the NSW Department of Veterans Affairs. In September, Mary will travel to Anzac sites as a representative of the NSW Government. She will travel to significant Australian battlefields in Belgium and France on a 12 day tour of the Western Front, along with students from other schools. Mary will also attend commemorative events in the town of Ypres in Belgium, acknowledging 100 years since Australia lost 38,000 men in battle there.
We look forward to hearing about her journey as she shares her experiences with her Delany community.
Mrs Jennifer Venhuizen,

School Learning Leader - Human Society
Facebook | Delany
15 Nov 2022

A group of Y9 students were excited to take part in their first Western Sydney University Day at the Parramatta South campus. The theme was 'Rise to the Challenge' and, along with several other schools from the local area, students took part in activities that explored their multiple intelligences and problem solving skills. The highlight of the day was exploring the campus as part of a scavenger hunt! 🕵️🧩Students are excited for the next part of the program that will take place in Y10.

12 Nov 2022

We're looking forward to a wonderful night. Come and join us in celebrating and recognising the great achievements of our students!