Top Tips to help students get the best out of the HSC Trials
01 Aug 2022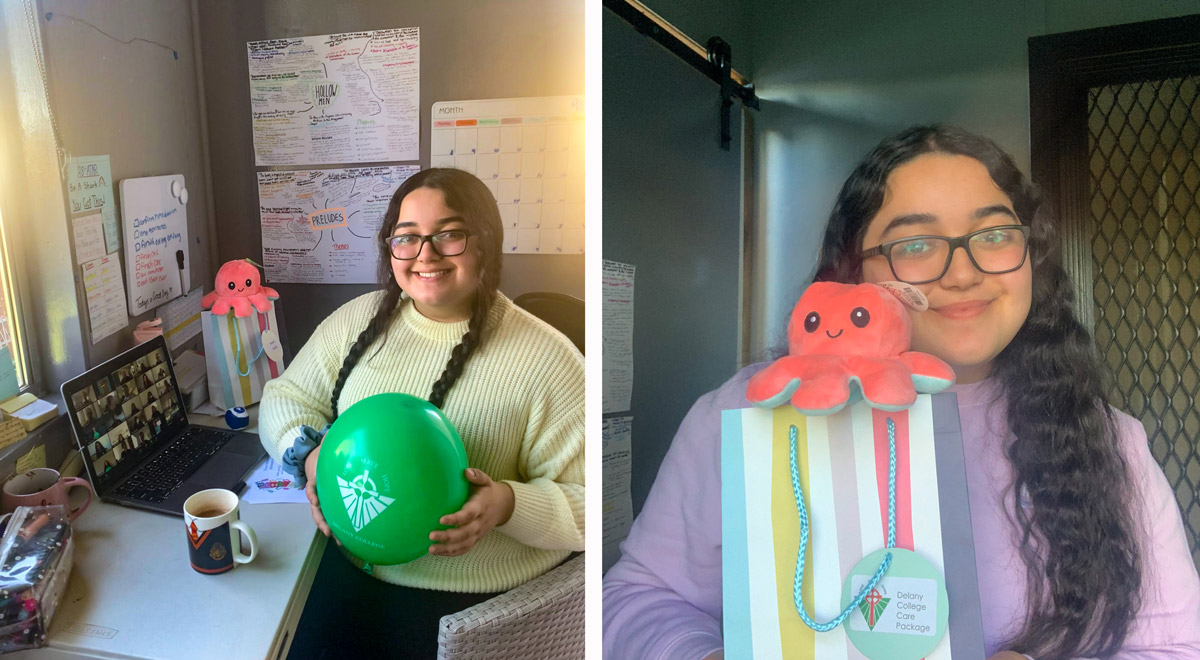 Many Catholic school students begin their HSC Trials this week. There are a number of pathways to success but the HSC remains an important milestone for Year 12 students.
It can be a time of stress and pressure for students, so we chatted with former student Naomi Habib from the Class of 2021 to get some tips for students during this time.
Former Delany College, Granville student Naomi Habib remembers how she felt leading into the HSC Trials last year. Now studying a Bachelor of Arts/Law (majoring in Politics and International Relations) at the UNSW, she has some really great advice for the Class of 2022.
What do you wish you knew at this time last year?
You are working as a cohort, boost each other and help each other. If someone wants help annotating a quote or clarifying a modern dot point, do it - it will help your learning. Something I wish I knew was if I sat for 10 minutes and just started, you would build the momentum to just continue.
What do you remember about going into the HSC Trials?
I remember using it at a test run to see if my study system actually worked, and the things I noticed were not effective, I dropped them before HSC. Bring black pens that work for you, I had a go-to pen that I only used in exams - use a 0.5 or 0.7 pen because it writes smoothly, won't smudge, and makes handwriting look neat.
What advice do you have for 2022 students?
Treat it like the HSC and be prepared, this is the last opportunity to replicate exam conditions. Don't become complacent, you might as well do your absolute best and push through knowing you tried your hardest.
The worst feeling is getting your results and knowing you could have done better. It's also okay to be disappointed with a mark, but use this and the feedback as motivation, speak to your teachers and friends for ways to improve.
Take breaks to ensure you do not burn out, the last thing you want is to push so extremely that you're worn out for HSC. After trials take some to relax and refresh.
What are your top study tips?
Study when it works best for you. I learnt best in the morning but it may be different to somebody else. To motivate me, I'd create TikToks of my days that I'd keep in my drafts because it would motivate me to make sure I did it everyday.
Build healthy habits that give you a break, whether that's readings or taking a walk - but don't take your breaks by scrolling through TikTok or Insta because you will lose track! I also found watching YouTubers who provide HSC tips to be helpful, I watched Chantelle Ralev and would read the Uncle Nathan Co website for tips.
---
Read more about Naomi's achievements and experiences during her HSC year, as featured in the Sydney Morning Hearld
Facebook | Delany
29 Nov 2023

The five Patrician Schools, Holy College Ryde, Delany College Granville, Blacktown Patrician Brothers, All Saints Casula and Patrician Brothers Fairfield brought their 2024 student leaders together for the inaugural leadership retreat at Mulgoa. Delany Leaders receive their Patrician Pin and Leadership Certificate. They stood tall with an amazing presentation around what it means to be a Patrician student. ☘️☘️

28 Nov 2023

Students ventured into the city to visit a company on George street called Atlassian. An Australian Software Design company that develops products for software developers, project managers and other software teams. Students were invited to a Q&A session to discuss the different job roles and careers available as well as tour the grounds to see what the wonderful world of coding is like, the facilities available and flexible working conditions. It was a wonderful opportunity for students to see the many career options available as well as seeing what it takes to make such a successful company work. 🤩🤩