2017 Secondary Schools
04 Apr 2017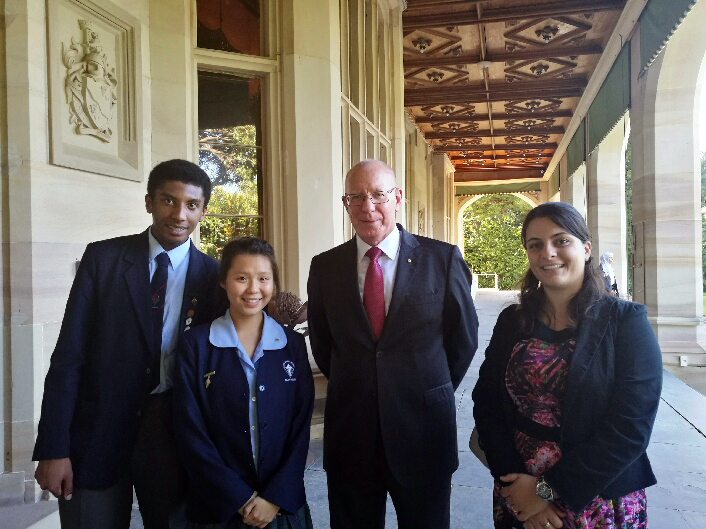 Wesley, Hilary and Mrs Pratelli meet His Excellency General The Honourable David Hurley AC DSC (Ret'd)
On Wednesday 29th March 2017, Mrs Pratelli, Hilary and I attended the 2017 Secondary Schools Student Leadership Program at Parliament House Sydney and Government House Sydney.
The day started off with a short talk by politicians including the Premier Gladys Berejiklian, Opposition Leader Luke Foley as well as local members of parliament including the Member for Granville, Julia Finn.
They answered questions concerning gender equality in the parliament, challenges that they have faced, as well as giving us leaders valuable advice and inspiration on making a change in our communities and the state for our future.
The day continued with a tour of the chamber where a bill concerning green slips was heard, as well as a short visit to the Legislative Council, where another bill was heard. As the day progressed, we took a short walk down to the Government House Sydney where we had a quick tour of the Government House. We learned about the role of the Governor and the British influence on the building, then we met His Excellency General The Honourable David Hurley AC DSC (Ret'd) Governor of NSW, and his wife. Governor Hurley provided us with insight on his role as governor, and more insight on leadership and developing our future.
The day ended after Governor Hurley and his wife Mrs Hurley personally spoke to us, wishing us well for the rest of the year, and getting to know a bit about our school. As leaders, Hilary and I took some valuable inspiration from our experiences from this leadership program which will influence us and our peers in making a difference for our future.
By Wesley Swalah Mcdahrou - 12.1
Facebook | Delany
16 Sep 2022

Delany students were invited to attend the Fast Forward Year 11 University Day at Western Sydney University, Liverpool Campus. Students participated in many activities which focused on: → Identification and application of essential transferable skills 💡 → Exploration of career possibilities tailored to personal skill strengths and interests 🏢🧑‍💼 → Developing students' awareness of, and familiarity with, the university environment 🎓 The day ended with a creative RAP performance highlighting the positive impact of future study 📜 and pathways beyond school.

15 Sep 2022

It's a battlefield out there... when Mr Zagas' Y11 Modern History class creatively used classroom tables and nerf guns 🔫 on our field area to simulate charging a machine gun bunker in World War One's Western Front ⚔️💣