A beautiful celebration at St Patrick's Cathedral
03 Apr 2017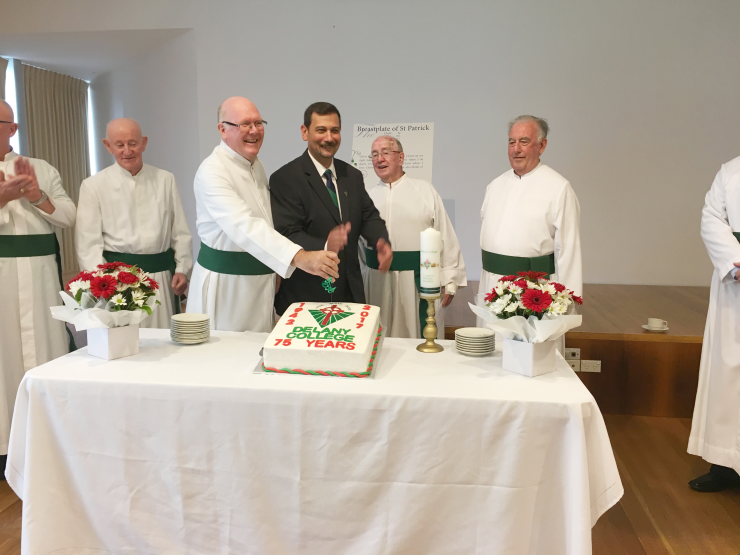 The highlight of the past weeks, and most likely of the whole year, was the celebration of 75 years of Patrician education at Granville, first as Patrician Brothers Granville, and more recently as Delany College Granville.
Despite poor weather leading to the day the rain held off just long enough to enable us to board buses both to and from Parramatta Cathedral. We were blessed to have Fr Paul Roberts as our leading celebrant; his gentle and genuine touch, and understanding of our students, provided an inclusive and reverent Mass.
As I wrote last time Mr Leo Budin was our special guest. His presence, having been one of three Patrician brothers to teach on Day 1 of our school history, provided a direct link to our past. It reminds us today that this College is built on the shoulders of great men and women who led the way long before most of us were alive.
A special mention must go to a quartet of ex-students, Hano Namoa, Sione Haunga, Sandy Tuigamala & Daniel Katafono. They performed "Deer's Cry" from the Breastplate of St Patrick. Every person in the Cathedral held their breath as these four talented singers performed the most beautiful and uplifting version of this song I have ever heard. It was another highlight for each of the Patrician Brothers, every one of them commenting to me, Mr Muscat or Mrs Stow about the performance. There is even talk of inviting these performers in to make an "official" recording.
It is a rare treat and privilege to be a student at a school that celebrates these types of milestones. From the time of our first roll call in the morning, through the celebration of the Mass, and right to the end of the day our students 'did us proud'. During morning tea for our guests, and without fail, each person specifically identified the Delany students as having made the day special by their participation in the Mass, their reverent behaviour, uniforms and friendliness. It is one of those moments when we are especially proud to be leaders of a school.
Facebook | Delany
16 Sep 2022

Delany students were invited to attend the Fast Forward Year 11 University Day at Western Sydney University, Liverpool Campus. Students participated in many activities which focused on: → Identification and application of essential transferable skills 💡 → Exploration of career possibilities tailored to personal skill strengths and interests 🏢🧑‍💼 → Developing students' awareness of, and familiarity with, the university environment 🎓 The day ended with a creative RAP performance highlighting the positive impact of future study 📜 and pathways beyond school.

15 Sep 2022

It's a battlefield out there... when Mr Zagas' Y11 Modern History class creatively used classroom tables and nerf guns 🔫 on our field area to simulate charging a machine gun bunker in World War One's Western Front ⚔️💣