Congratulations to 4 students from Delany College on winning trip to Gallipoli 2015
05 Dec 2014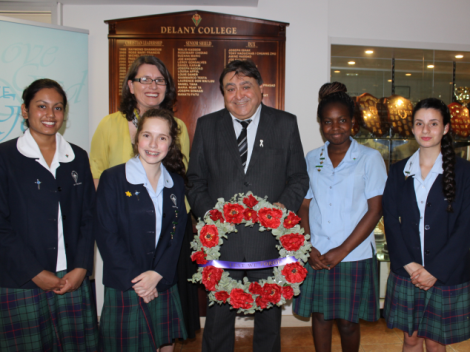 Raphaella, Krystal, Divashna and Beverley with Teacher Jennifer Venhuizen and Tony Issa MP
Tony Issa MP, Member for Granville today announced the four students who have been selected from Delany College to represent NSW at Centenary of Anzac commemorations at Gallipoli in April 2015.
The four students from Delany College, Granville selected to go to Gallipoli are:
Divashna Kumar - Year 9
Raphaella Chidiac - Year 11
Beverley Kaviya - Year 11
Krystal Docker - Year 10
The winning students will travel on 19 April and return on 27 April 2015 along with their teacher Jennifer Venhuizen (HSIE Co-ordinator).
'One of the reasons I wanted to go to Gallipoli was to bring back the story first hand so my generation will not forget,' said Beverley.
'It's an incredible honour and privilege and I'm most looking forward to the dawn service,' said Raphaella.
'It will be a very moving experience,' said Krystal.
'It's a once in a lifetime opportunity we'll never forget,' said Divashna.
'I'm incredibly proud that our community is being represented at such a significant event for Australia,' said Principal Peter Wade.
The students and teachers would join more than 10,000 Australian and New Zealanders at the Dawn Service commemorating the Gallipoli landings in 1915 and will also attend the Australian Service at Lone Pine later on the morning of 25 April.
'I am proud that the NSW Government is investing $1 million to enable 100 high school students from across NSW to travel on a seven-day tour of Turkey, culminating with the Anzac Day Dawn Service, marking 100 years since the first diggers landed on the shores of Gallipoli in 1915,' Mr Issa said.
'What I am most proud of is the calibre of students who have been chosen to represent our State next year.'
'We've seen a very high standard in the works submitted by the 377 applicants, including websites, artworks, poems and research papers focused on the experiences of our nation's servicemen and servicewomen during the First World War.'
Facebook | Delany
16 Sep 2022

Delany students were invited to attend the Fast Forward Year 11 University Day at Western Sydney University, Liverpool Campus. Students participated in many activities which focused on: → Identification and application of essential transferable skills 💡 → Exploration of career possibilities tailored to personal skill strengths and interests 🏢🧑‍💼 → Developing students' awareness of, and familiarity with, the university environment 🎓 The day ended with a creative RAP performance highlighting the positive impact of future study 📜 and pathways beyond school.

15 Sep 2022

It's a battlefield out there... when Mr Zagas' Y11 Modern History class creatively used classroom tables and nerf guns 🔫 on our field area to simulate charging a machine gun bunker in World War One's Western Front ⚔️💣