Delany Chess Team Success
01 Sep 2015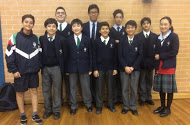 On Wednesday 26th August, a team of students from Delany College attended the Holroyd Invitational Chess Competition at Holroyd High School.
With eight other schools on board, competition was tough, but all students from first-timers to experienced players had an enjoyable time learning and competing. All of our students showed impressive dedication and focus competing in their divisions.
The team's breakthrough strategy of spreading themselves across as many divisions as possible paid off handsomely, with Stephen Manson and Alexander Mendoza both winning their divisions, as well as second place certificates being awarded to Kevin Guo, Nishit Jain and Andrew Francisco.
The last word on the day goes to Trang Nguyen, a senior player who trained and mentored the junior players in the lead up to the competition:
It was the best day: we met up with the friends we made last year and, as usual, learned new strategies from each other. This is my last year playing chess for Delany but I hope other students will take the opportunity to learn and play chess! Thank you to Mrs Webber for giving up her time for us and giving us a chance to compete!
Trang Nguyen, Year 12
Facebook | Delany
15 Nov 2022

A group of Y9 students were excited to take part in their first Western Sydney University Day at the Parramatta South campus. The theme was 'Rise to the Challenge' and, along with several other schools from the local area, students took part in activities that explored their multiple intelligences and problem solving skills. The highlight of the day was exploring the campus as part of a scavenger hunt! 🕵️🧩Students are excited for the next part of the program that will take place in Y10.

12 Nov 2022

We're looking forward to a wonderful night. Come and join us in celebrating and recognising the great achievements of our students!