Delany Remembers Lone Pine Sacrifices
11 Aug 2015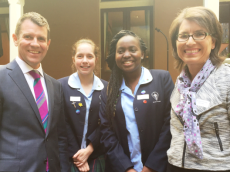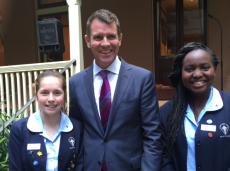 On 6 August Beverley, Raphaella Chidiac, Krystal Docker and Divashna Kumar attended the NSW State Government Lone Pine Memorial Service, followed by morning tea with the Premier of NSW, The Hon. Mike Baird MP.
Students were privileged to participate in a ceremony where they held a star with the name of a fallen digger on it, pondered the soldier's sacrifice, then reverently cast it into the well of remembrance at Anzac Memorial, Hyde Park, Sydney.
Mr Baird stated that students have an important role as stewards of the Anzac narrative; the next generation, with the responsibility to keep alive the message and pass it on to the generation after them. He reminded us that the majority of sacrifice at this battle came from NSW soldiers (1,700 of the 2,300 who died), who were aged between 15 and 47 years.
When speaking to Delany students personally, Mr Baird said that he had never been to Gallipoli but was pleased that students were able to represent NSW on his behalf at the Dawn Service.
Minister for Veterans Affairs, The Hon David Elliott MP, also spent time chatting with the Delany students. He thanked them for the way they conducted themselves on the tour and was interested to hear first-hand each of their favourite experiences whilst at Gallipoli. Mr Elliott's formal address reminded us to also remember the contribution of our Indigenous ancestors, who gave us terms such as 'sacred site', which is what some of the Anzac sites have become for us.
Lieutenant General Ken Gillespie (former Chief of Army) personally chatted with our students; his message was to treasure our national anthem and use it as a reminder of what those before us have done for us. He also said that Anzac is part of our lives through mateship, sacrifice, selflessness, courage and looking after others. In his address, he exhorted students to work through how and why it was that the nation got itself into the position of putting young people there in the first place, so that we never do that again.
Mrs Jennifer Venhuizen | HSIE Leader of Learning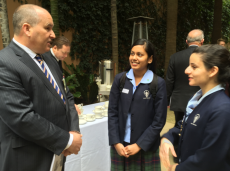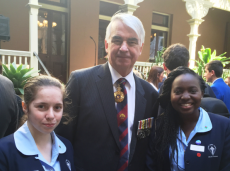 Facebook | Delany
16 Sep 2022

Delany students were invited to attend the Fast Forward Year 11 University Day at Western Sydney University, Liverpool Campus. Students participated in many activities which focused on: → Identification and application of essential transferable skills 💡 → Exploration of career possibilities tailored to personal skill strengths and interests 🏢🧑‍💼 → Developing students' awareness of, and familiarity with, the university environment 🎓 The day ended with a creative RAP performance highlighting the positive impact of future study 📜 and pathways beyond school.

15 Sep 2022

It's a battlefield out there... when Mr Zagas' Y11 Modern History class creatively used classroom tables and nerf guns 🔫 on our field area to simulate charging a machine gun bunker in World War One's Western Front ⚔️💣