Delany Students Attend Holroyd Chess Tournament
08 Sep 2014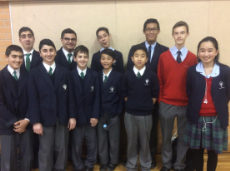 Delany Chess Team 2014
On Wednesday 27th August, 11 students from Delany College attended a chess tournament at Holroyd High School. With six other schools on board, competition was tough, but students had an enjoyable time learning and competing.
The Delany students showed impressive dedication and focus competing in their divisions. Well done to Stephen Manson who achieved second place in the First Division.
The students' highlights:
"Today was my first time in a chess tournament. I came in with not much experience, so my highlight was winning my first game." Paul
"My highlight was winning matches, keeping me motivated and making the tournament really enjoyable". Johnny
"Although I lost the first few games, after recess, I regained my focus and won the next four!" Anthony
"I really liked meeting new people from different schools while playing chess" Aiden
"Winning my first game!" Adam
"I liked how during the day we made friends and learnt new things about chess."
"Playing against better players makes me stronger"
"Being able to force a stalemate when I was about to lose was my highlight." Lochlan
"Enjoyed catching up with old friends and learning new moves." Alex Stephen
Facebook | Delany
16 Sep 2022

Delany students were invited to attend the Fast Forward Year 11 University Day at Western Sydney University, Liverpool Campus. Students participated in many activities which focused on: → Identification and application of essential transferable skills 💡 → Exploration of career possibilities tailored to personal skill strengths and interests 🏢🧑‍💼 → Developing students' awareness of, and familiarity with, the university environment 🎓 The day ended with a creative RAP performance highlighting the positive impact of future study 📜 and pathways beyond school.

15 Sep 2022

It's a battlefield out there... when Mr Zagas' Y11 Modern History class creatively used classroom tables and nerf guns 🔫 on our field area to simulate charging a machine gun bunker in World War One's Western Front ⚔️💣