Delany's Gallipoli Representatives Share their Experiences with Holy Trinity Primary
19 Jun 2015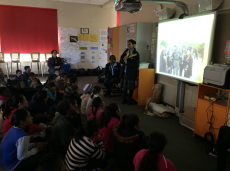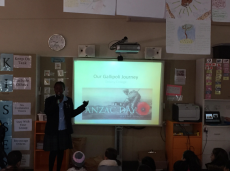 Our Gallipoli tour students were delighted to be invited to share their experiences with the Stage 3 students at Holy Trinity Primary School recently.
Beverley Kaviya and Divashna Kumar presented first hand accounts of their recent trip to Turkey. Their stories included their ferry journeys across the straits of the Dardenelles, walks along the beach where the soldiers landed, reverent moments in the cemeteries, steep hikes up the cliffs and curious reflection as they stood in the original soldiers' trenches.
They also recounted the privilege of singing the national anthem with 10,000 others at the Dawn Service. The students from Holy Trinity listened very attentively and posed many insightful questions, including the impact that the tour had on our students and the cultural differences our students noticed in Turkey. Holy Trinity students were encouraged to pursue all the opportunities offered to them, such as Beverley and Divashna did.
Our Gallipoli students have been invited to morning tea with the Premier of NSW and gratefully accept invitations to share their stories which bring other perspectives of an Australian student learning the importance of remembering World War One.
The Anzac spirit has certainly been fuelled in our community and we trust that this will continue.
Mrs Jennifer Venhuizen | HSIE Leader of Learning
Facebook | Delany
16 Sep 2022

Delany students were invited to attend the Fast Forward Year 11 University Day at Western Sydney University, Liverpool Campus. Students participated in many activities which focused on: → Identification and application of essential transferable skills 💡 → Exploration of career possibilities tailored to personal skill strengths and interests 🏢🧑‍💼 → Developing students' awareness of, and familiarity with, the university environment 🎓 The day ended with a creative RAP performance highlighting the positive impact of future study 📜 and pathways beyond school.

15 Sep 2022

It's a battlefield out there... when Mr Zagas' Y11 Modern History class creatively used classroom tables and nerf guns 🔫 on our field area to simulate charging a machine gun bunker in World War One's Western Front ⚔️💣