High Achievers return to Share their Success
18 Feb 2015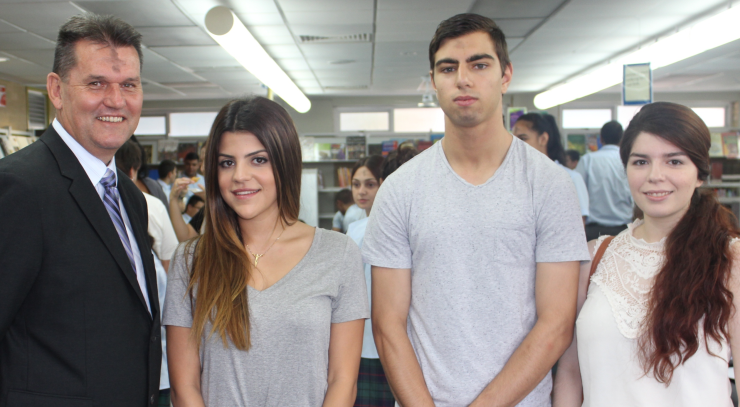 Peter Wade, Stevana, Andre and Melissa.
It was great to have Stevana, Andre and Melissa join our Year 12 2015 cohort today to share their tips on coping with the demands of the HSC.
Thanks for sharing your 'recipes for success' with our Year 12 students.
Melissa is studying at UTS for a Bachelor of Biomedical Science. She advised the students to keep their study space organised, texts and stationary at hand, have a clear desk to work at, and complete practice exams in exam like conditions.
Andre, who is studying a double degree - Bachelor of Science Information Technology/Bachelor of Creative Intelligence Innovation at UTS said students should be methodical about their study practices - keeping organised and not over-thinking. Don't underestimate the power of sleep!
Stevana is studying Bachelor of Law, also at UTS. Stevana said it's really important to try to stay on top of your work, complete all the practice exams you can and take lots of notes.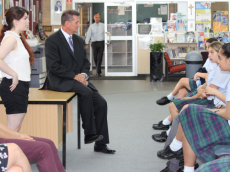 Melissa Aguirre Acuna.

Andre Farah.
Facebook | Delany
16 Sep 2022

Delany students were invited to attend the Fast Forward Year 11 University Day at Western Sydney University, Liverpool Campus. Students participated in many activities which focused on: → Identification and application of essential transferable skills 💡 → Exploration of career possibilities tailored to personal skill strengths and interests 🏢🧑‍💼 → Developing students' awareness of, and familiarity with, the university environment 🎓 The day ended with a creative RAP performance highlighting the positive impact of future study 📜 and pathways beyond school.

15 Sep 2022

It's a battlefield out there... when Mr Zagas' Y11 Modern History class creatively used classroom tables and nerf guns 🔫 on our field area to simulate charging a machine gun bunker in World War One's Western Front ⚔️💣