Leading for Success at Principals' Masterclass
16 Oct 2015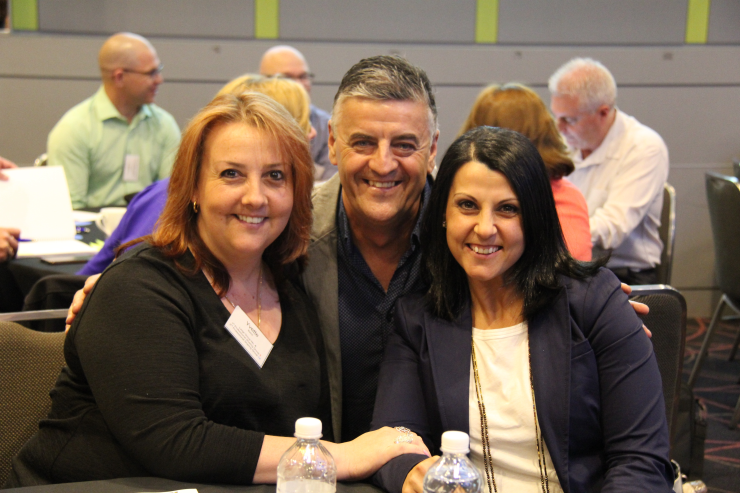 From left to right: Yvette Baird, Gary Borg and Mary Harb.
The annual Principals' Masterclass was held on 8 and 9 October 2015, at Rooty Hill RSL, giving school leaders a valuable opportunity to come together to share ideas and participate in professional learning.
The two day event was attended by 78 primary and secondary principals and Catholic education leaders.
Executive Director of Schools Greg Whitby said the Principals' Masterclass is the primary professional learning for principals each year.
'The value of the Masterclass is that it brings together good theory, good educational practice and reflection on learning,' Greg said. 'Built into the Masterclass is a sharing of expertise and the collaboration that demonstrates how you can build capacity at every level of the school community.'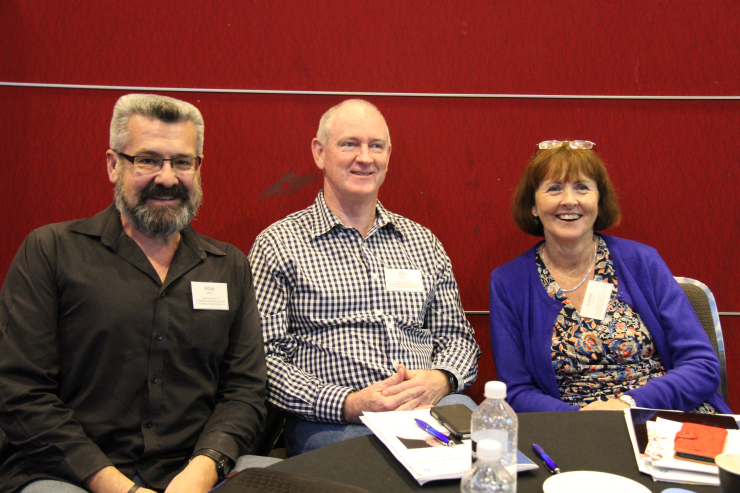 From left to right: Attila Lendvai, Phil Mahony and Louise O'Donnell
Guest speakers included former Director of Learning and Development Research in the NSW Department of Education and Communities Dr Paul Brock AM; Principal of York School District in Ontario, Canada Jill Maar; Catholic Education's Director of Evangelisation and Religious Education Ian Smith and Principals, David Bourne and Dr Elizabeth Ricketts.
Greg Whitby introducing Dr Paul Brock.
Educational leader Dr Paul Brock AM delivered a stirring and often humorous keynote address including leading Principals in a rendition of the classic Catholic hymn, 'Faith of our Fathers'.
Paul spoke about the influence of his parents in his early years, stating 'our home was infused with the search for knowledge'. He shared experiences of discrimination as a young Catholic and reflected on joining the Marist Brothers as a very young man. Paul observed that his experience of religious life was a powerful preparation for his future career in education.
Paul's speech was infused with his passion for English literature, 'A pivotal subject in the school curriculum'. Principals were reminded of the importance of carefully critiquing the use of the English language wherever it occurs. Paul told Principals: 'I know that teaching is not only an art and a science but also a craft'.
In 1996, Paul was diagnosed with Motor Neurone Disease and advised that he had three to five months to live. Reflecting on the personal challenge of receiving this diagnosis 19 years ago, Paul commented frankly 'I was shocked and terrified...what has kept me keeping on? The love of my wife and our children'. Paul also said that his work as an educator 'sustains life expectancy and quality of life'.
In sharing his philosophy of teaching and learning, Paul spoke about the truth of the OECD description of education as 'knowing and caring profession'. He reminded principals that we must never forget our fundamental focus as educators on student learning. Finally Paul commented on 'education as perhaps the most powerful 21st century force' and closed by quoting from a WH Auden poem on the beginning of World War Two, a reflection on love and hope amid chaos. Paul's personal and deeply moving reflection on education and living with Motor Neurone Disease was met with a standing ovation.
From left to right: Sr Venera Nicolosi, Danuta Maka and Dr Liz Ricketts.
St Patrick's Marist College, Dundas Principal Angela Hay said she found Dr Paul Brock inspiring.
'Listening to Dr Paul Brock was so inspiring,' Angela said. "Being able to have one-on-one conversations with him was so affirming for all of us, for the work that we do in Catholic Education.'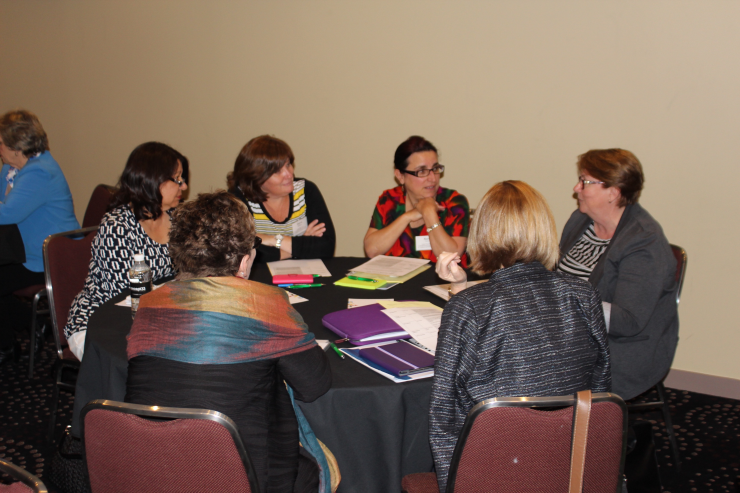 Principals were able to collaborate in their breakout groups.
Jill Maar is currently working as a visiting educator with Catholic Education for 12 months supporting school leaders and the education to support learning and teaching.
Jill looked at case studies of two schools in Ontario, Canada - Armadale Public School and RL Graham Public School. Both schools had a high number of students from multicultural backgrounds and around one third of students were on personalised learning plans for learning and additional needs.
Using rich learning tasks, staff partnerships and community engagement, learning became everyone's responsibility with high expectations for each student. Failure was not an option and Jill and her staff transformed learning improving literacy and numeracy results well beyond the district.
Principals even provided their own entertainment. From left to right: Michael Hopley, Sergio Rosato, Tony Hughes and Attila Lendvai.
Ian spoke about Transforming Catholic Schools and engaged his break-out groups by taking a deep dive into Archbishop Miller's recent address.
David Bourne reflected upon his own journey and the experiences which led him to become a principal.
David said that without being a transformational leader he would not be able to be an instructional leader.
'Transformational leadership is the leadership of Jesus,' David said.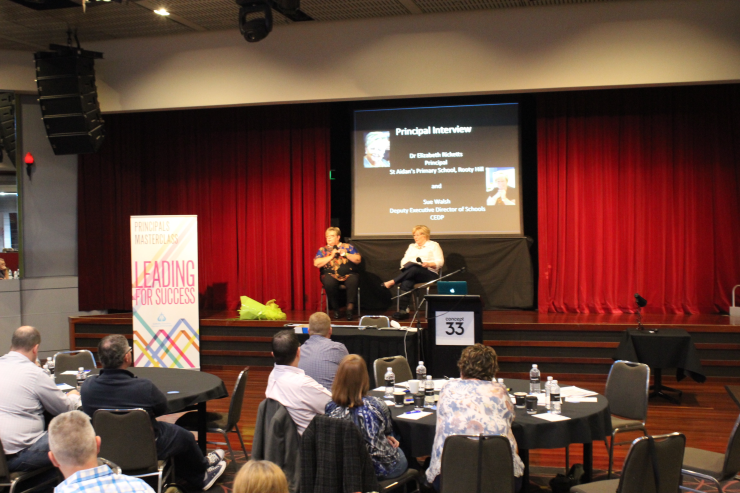 Sue Walsh interviewing Dr Liz Ricketts.
In ushering in the second day of the Principals' Masterclass Deputy Executive Director Sue Walsh conducted a live interview with St Aidan's Primary, Rooty Hill Principal Dr Elizabeth Ricketts.
Liz spoke about her experiences and the lessons she learnt from her first job in Yarralumla.
'I learnt the hard way but it was great experience because I was right at the grassroots,' Liz said.
Liz then spoke about her work now at St Aidan's, pastoral care and data.
Liz said that in order to continuously improve learning outcomes she assesses whether tasks set for students are engaging and relevant.
'The standard you walk past is the standard you are willing to accept,' Liz said.
Director of Finance and Administration Mark Holyoake said he felt the Masterclass was an excellent opportunity for him to network with the principals.
'Listening to Liz Ricketts was actually a bit of a choke moment for me in hearing the care and love that they have for their students, not just while they are at their school but right throughout their whole education in the system,' Mark said.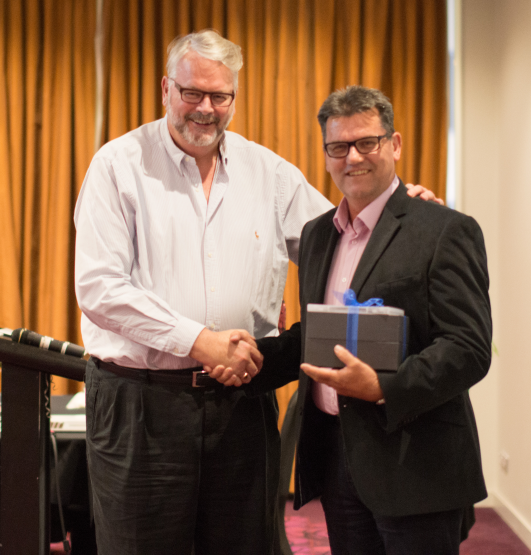 Peter Wade receiving a gift from Greg Whitby.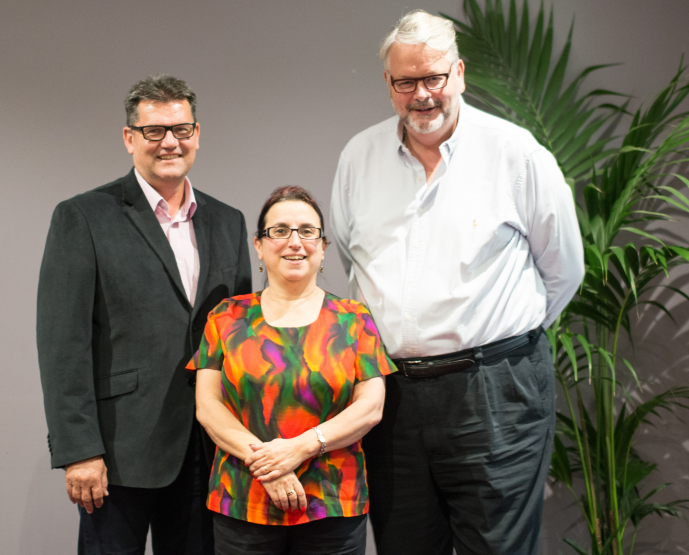 Leaving Principals Peter Wade and Mary Leask with Executive Director of Schools Greg Whitby.
Facebook | Delany
29 Nov 2023

The five Patrician Schools, Holy College Ryde, Delany College Granville, Blacktown Patrician Brothers, All Saints Casula and Patrician Brothers Fairfield brought their 2024 student leaders together for the inaugural leadership retreat at Mulgoa. Delany Leaders receive their Patrician Pin and Leadership Certificate. They stood tall with an amazing presentation around what it means to be a Patrician student. ☘️☘️

28 Nov 2023

Students ventured into the city to visit a company on George street called Atlassian. An Australian Software Design company that develops products for software developers, project managers and other software teams. Students were invited to a Q&A session to discuss the different job roles and careers available as well as tour the grounds to see what the wonderful world of coding is like, the facilities available and flexible working conditions. It was a wonderful opportunity for students to see the many career options available as well as seeing what it takes to make such a successful company work. 🤩🤩