Mass celebrates 175 years of Catholic Mission
10 Nov 2015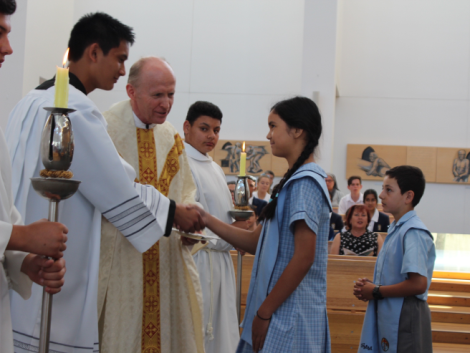 Fr Paul and concelebrants thanking students at World Mission Mass
Friday 16 October 2015 saw Principals, RECs and students from 53 schools from across the Diocese come together with Diocesan priests to celebrate in a World Mission Mass at St Patrick's Cathedral, Parramatta. In 2015, the Church celebrated 175 years of Catholic Mission.
The Mission Mass gave everyone the opportunity to celebrate their role in the mission of the Church and, in particular, to show their support of the work carried out by Catholic Mission in Australia and in other countries throughout the world.
The mass was led by Institute For Mission Director Fr Paul Roberts who said he felt enthused at the Mission gathering and Mass by the presence of so many young people of our diocese who are active in bringing hope.
'Mission across borders and across the globe is as important as ever but we can easily miss the emphasis that God's mission is right here, right now,' Fr Paul said. 'To be people of mission is to be people who say yes to being sent; sent across hearts, across families and across the street; recognising and learning from Christ's presence that's already there; and breathing Christ's Spirit to further the joy of the Gospel amidst all of God's beloved creation in those places.'
'I'm in awe of what our teachers and leaders in our Catholic Schools of the Diocese are doing to support and further many generous young people's keenness to be Christ for he world,' he said.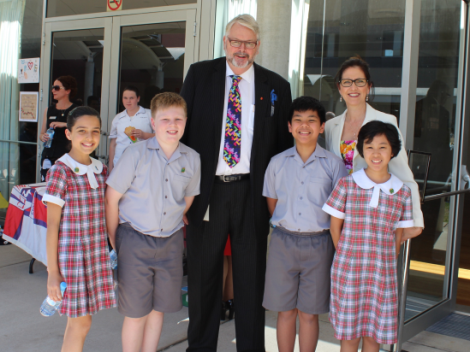 Greg Whitby with student representatives and Principal from St Patrick's Primary, Parramatta
Executive Director of Schools Greg Whitby congratulated Catholic Mission on their 175th anniversary and thanked all in attendance.
'I thank you for the collaborative work that you have done and continue to do on a daily basis with the staff and students of the Catholic schools of the Diocese of Parramatta and in raising awareness and funding for the important projects that Catholic Mission is engaged upon both here in Australia and around the world,' Greg said.
Catholic Mission spokesperson Rosa Vukovich spoke of her experience working with the poor and oppressed people from different areas around the world and how this experience had increasingly challenged her to seek the face of Jesus in those she sought to minister to. Conversely, she also learnt that she had to be the face, hands and feet of Christ to them in return. Rosa challenged everyone and especially the students in the congregation to follow the call of Christ and to set out on mission; a mission that starts as soon as we set foot outside our own front doors.
The day was run by St Patrick's Primary, Parramatta Year 6 school leader Clarissa Guino who welcomed guests, introduced speakers and concluded mass.
After Mass, schools showcases their Catholic Mission work at an 'expo' held during lunch and assisting to build awareness of the work they carry out on behalf of the school community.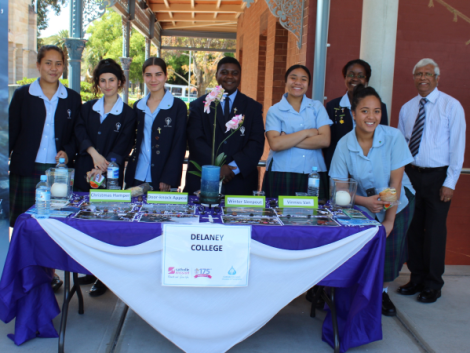 Delany College, Granville students and staff displaying their Mission work during the expo
Facebook | Delany
16 Sep 2022

Delany students were invited to attend the Fast Forward Year 11 University Day at Western Sydney University, Liverpool Campus. Students participated in many activities which focused on: → Identification and application of essential transferable skills 💡 → Exploration of career possibilities tailored to personal skill strengths and interests 🏢🧑‍💼 → Developing students' awareness of, and familiarity with, the university environment 🎓 The day ended with a creative RAP performance highlighting the positive impact of future study 📜 and pathways beyond school.

15 Sep 2022

It's a battlefield out there... when Mr Zagas' Y11 Modern History class creatively used classroom tables and nerf guns 🔫 on our field area to simulate charging a machine gun bunker in World War One's Western Front ⚔️💣