Delany students learn about careers at Telstra
03 Dec 2015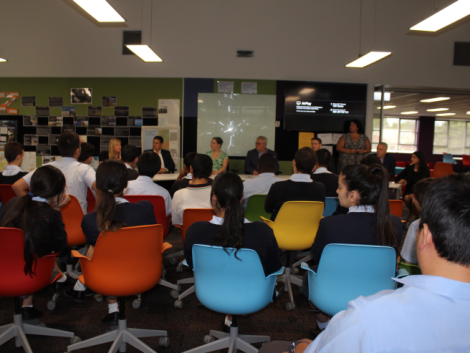 Year 11 Delany students ask Telstra executive team questions about careers
On Friday 27 November 2015, the Year 11 students at Delany College, Granville were given the opportunity to pick the brains of an executive team at Telstra.
The team spoke about their roles and how they came to work at Telstra. Students were then able to ask questions about future careers.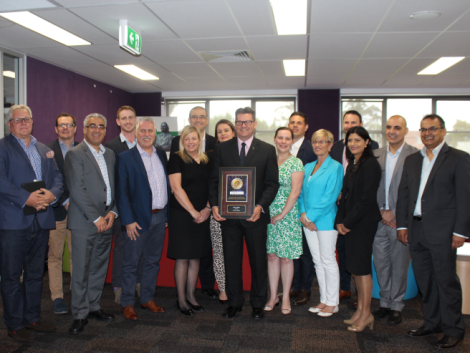 Telstra's Andy McKay, Ernie Sodano, Steve Clark, Gretchen Cooke, Brie Muston, Julie Curtain, Nevash Pillay, John Strati, Noel D'Souza, Trevor Boal, Tim Forsyth, John Piccinin, Helen Stewart, Dino Georgiou, Ben Kingston and Delany Principal Peter Wade (centre)
The session concluded with Principal Peter Wade receiving his award for Award for Outstanding Contribution to Education, presented by the Asian Education Leadership Awards.
To read about the award,
click here
.
Facebook | Delany
16 Sep 2022

Delany students were invited to attend the Fast Forward Year 11 University Day at Western Sydney University, Liverpool Campus. Students participated in many activities which focused on: → Identification and application of essential transferable skills 💡 → Exploration of career possibilities tailored to personal skill strengths and interests 🏢🧑‍💼 → Developing students' awareness of, and familiarity with, the university environment 🎓 The day ended with a creative RAP performance highlighting the positive impact of future study 📜 and pathways beyond school.

15 Sep 2022

It's a battlefield out there... when Mr Zagas' Y11 Modern History class creatively used classroom tables and nerf guns 🔫 on our field area to simulate charging a machine gun bunker in World War One's Western Front ⚔️💣