Farewell Principal, Peter Wade.
27 Nov 2015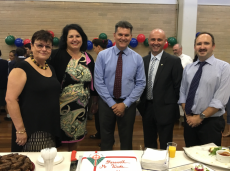 Peter, Sophie and Executive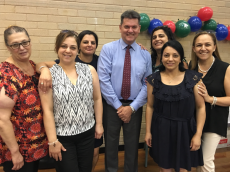 Peter with Delany Parents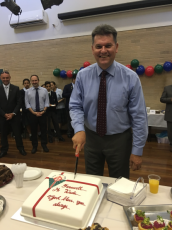 Farewell Cake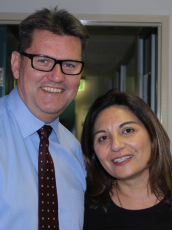 Peter and Jackie
In a moving and appropriately heart-warming Mass on Wednesday, we farewelled Mr Peter Wade, who is moving on to the Sydney Diocese to take up Principalship at Patrician Brothers College, Fairfield next year.
Peter has been with us at Delany for ten years and in his farewell speech, he spoke of his love for the community, the brothers, students and staff.
He shared his first thoughts about the Celtic Cross that was presented to him at his welcoming mass, and the significance of that cross during his time at Delany.
He will be greatly missed. God bless!
Facebook | Delany
16 Sep 2022

Delany students were invited to attend the Fast Forward Year 11 University Day at Western Sydney University, Liverpool Campus. Students participated in many activities which focused on: → Identification and application of essential transferable skills 💡 → Exploration of career possibilities tailored to personal skill strengths and interests 🏢🧑‍💼 → Developing students' awareness of, and familiarity with, the university environment 🎓 The day ended with a creative RAP performance highlighting the positive impact of future study 📜 and pathways beyond school.

15 Sep 2022

It's a battlefield out there... when Mr Zagas' Y11 Modern History class creatively used classroom tables and nerf guns 🔫 on our field area to simulate charging a machine gun bunker in World War One's Western Front ⚔️💣