Farewell to Mrs Ivanka Rancic
06 Apr 2016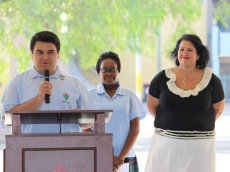 Jayden, Thorie, Mrs Rancic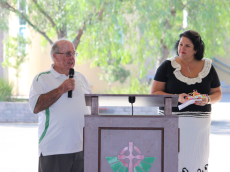 Br Charles and Mrs Rancic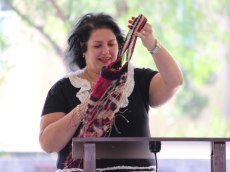 Mrs Rancic and the Bilum
Today, we sadly farewelled Mrs Rancic, our Religious Education Coordinator for 7 years, who recently left the Delany community to join Holy Cross Ryde as their REC.
Our School Counsellor, Br Charles Barry, gave Mrs Rancic a gift, which was not just for her; it was originally intended as a gift for his mother some 40 years ago. Sadly, his mother passed away two weeks before he had the chance to give it to her. This special gift was a bilum - a beautiful string bag hand made in Papua New Guinea in a process of looping, knotless netting or crocheting.
While everyone had some lovely stories to share of their time with Mrs Rancic at the College, the Captains' speeches below captured the feelings of all.
Thorie's Speech
Spoken word poetry is a developing way of communication. It's far much more than poetry and storytelling, it appreciates words as LIFE and something I would love to develop. Today, I have the perfect opportunity for me to say something special about a teacher I have not had too long. I realised that she may have heard the same things over and over and over so I wanted to do something a little different.
To Mrs Rancic,
You taught us knowledge and words,
Words in different time frames,
Time frames which you have used to love, serve and hope,
Love, service and hope you have shown to many,*
Many you have shown in different ways,
Ways in which we have responded,
Responses that are reflective,
Reflective in the school spirit,
Spirit in the Patrician family,
Family that you will always be part of,*
Part of our lives and hearts forever,
Forever you will be remembered,
Memories that last forever,
Forever however can not describe the pleasure,
Pleasure that has been shared,
Sharing not one but many things,
Things of life and meaning,*
Meaning that the class of SOR1 will value,
Value that you have given to our learning,
Learning is something we now yearn,
Yearn to make you proud of,
Of the times we spent not one but many,
Many to get us more than ready,
Ready for not only HSC but for life,
Life that will remind us of Delany,*
Delany that will always have a place in your heart,
Your heart that you opened to many,
Your heart that brought you to Delany,
Your heart that has kept you in the Patrician spirit,
Your heart that will always keep you Delany,
Delany is a small place with a big heart,
And with this heart we say Thank you,*
Thank you for the love, service, and hope,
Hope for you to turn right back to us,
Us who have treasured you,
You who stayed with us,
Us who are asking you to now spread your words,
Words of knowledge and words of Delany,
Delany knows you will do just so,
So we may say "Delany stands proud even outside its gates."*
Gates to the SOR1 class you opened,
Opening our "I do not knows" to "YES I DO KNOW," Knowing that you took the word RELIGION to a whole a level,
A level that explored the concepts far and beyond yet HIGHLY relevant,
Relevant so much so that we were able to remember,
Remember contents with the snap of a finger,
A finger that lead us in the right direction,
Direction, "I am the Way, the Truth and the Light"
Oh yes*
I am now taking it that direction,
May the Lord lead you in the Direction of which you and your family Stay forever Blessed,
Blessings upon blessings we are sending to you now as Delany,
Delany is with you at heart,
Heart that the Lord is keeping you in,
Heart that MINE has very little knowledge of you,
You I am able to say all this,
All this Delany can say about you,*
You we appreciate,
Appreciate every little thing to every big thing,
Big things at heart, big things at mind,
Minds young and ageing,
Ageing with spiritual values,
Values that will be carried,
Carried with us far and wide,*
Wide enough that the skies have nothing against you, me and Delany,
Delany carrying itself HIGH in the Lord,
Lord, we ask you to be with us all,
All you have given life,
Life to live,
Live in your word,
Your word true,
Truth Delany is Crowned,
Crowned Prince of Peace watch over,
Over you, me and Delany.
Jayden's Speech
Good Morning Delany and special guests.
It is my pleasure to be up here to speak about a woman who has changed our school in ways thought to be unrealistic. She is the woman who loved us unconditionally as if we were her own children. She is the woman who served us to the point of physical and mental exhaustion. She is the woman who saw the light in our school that no one else did.
Over the course of my 6 years at Delany College, I have had the privilege to get to know an amazing leader. Miss Rancic I ask you this question - Will you remember the faces of the people you have served here? Will you remember the anxious faces; of those scared to start their journey at Delany. Will you remember the lost faces; of those who did not know what to do with their current situation and came to you for guidance? Will you remember the smiling faces; of those thankful for the great deeds you had done for them and their family. I hope you cherish these memories hold them close to your heart just in the same way we all hold our memories with you close to ours.
I will never forget the lessons that i have learnt from you. They weren't necessarily the lessons that were from the syllabus - they were lessons that i will use as preparation for my life ahead. I'm sure that i can speak on behalf of your entire SOR 1 class in saying, Your lessons have inspired us all to achieve greatness. You have taught us that we can all be role models in society no matter the circumstance. You have taught the young growing women in Delany that they are just as good as men. But most importantly, you have taught us to Love, to serve and to hope. Hope for a brighter tomorrow.
We are all grateful for the light that you saw within each and every one of our hearts. To many outsiders, Our spirit as a community is defined by the area that we live in. Because of our area, people are quick to assume that we are nothing. They assume that because we live in Granville, we probably think and act the way our area is portrayed. One of the greatest things lessons you had taught me was on my last SOR class with you. You had said to us "Don't let anyone tell you that you are not capable because you are." It was from these words that I was able to realise that - No matter how many times I will be told that we are not as good as other schools, I will always remember that Delany has given me something that no $10000 a term school ever could - and that is our unique sense of family.
I will never forget your unorthodox style of teaching. I'll always remember the word 'Big Kahuna' and 'Pachooch' and the iconic quote "Haven't your teachers taught you anything!".
I will always remember the thick Croatian accent you would put on to replicate the lessons your father taught you. But the one thing i think we will all remember is the strong backhand we would cop if you caught us talking.
Who would've thought that the Ivanka Rancic from the coast, now leaves Delany as the Habibi known as Ivanka El from the area. We are so glad that you have found yourself such an amazing school in Holy Cross Ryde but always remember, that Delany is where the heart is. Thank you Ms Rancic for the great service you have done for our community - we will make sure that your wisdom is passed on to many Delany students to come.
Now on behalf of the entire Delany community, and all your past students, I wish you well on the next chapter of your Journey and may you continue to embody our core values of love, service and hope.
Facebook | Delany
16 Sep 2022

Delany students were invited to attend the Fast Forward Year 11 University Day at Western Sydney University, Liverpool Campus. Students participated in many activities which focused on: → Identification and application of essential transferable skills 💡 → Exploration of career possibilities tailored to personal skill strengths and interests 🏢🧑‍💼 → Developing students' awareness of, and familiarity with, the university environment 🎓 The day ended with a creative RAP performance highlighting the positive impact of future study 📜 and pathways beyond school.

15 Sep 2022

It's a battlefield out there... when Mr Zagas' Y11 Modern History class creatively used classroom tables and nerf guns 🔫 on our field area to simulate charging a machine gun bunker in World War One's Western Front ⚔️💣