Fast Forward Information Evening
24 Jun 2017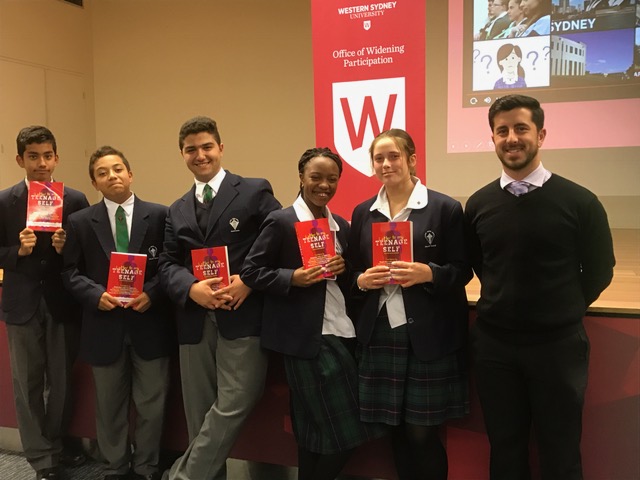 One such opportunity is the Fast Forward program provided by Western Sydney University.
The aim of the program is to try and get as many students into tertiary education as possible, especially students who may not even consider university as a viable option.
On Wednesday 17th of May the Year 9 students selected to take part in the program represented the school at the Fast Forward Information evening.
Here the young men and women of the College. their parents and members of their family were informed about what being in the program involved and the excellent opportunity they have been afforded.
Over the next few years they will have access to an online tutor for free, have the chance to explore the university campus and engage in some other activities lead by university staff.
There is also a scholarship on offer for one student involved in the Fast Forward program worth $20,000.
I would like to thank Mr. Robinson and Miss Guillaume for their continued effort in organizing the Fast Forward program at Delany.
A big thank you must go to Miss Mutabdzija for coming along for the evening and taking photos.
The Year 9 students representing Delany in the Fast Forward program are: Aaliyah Afu, Emmanuel Deng, Masoud Rashvand, Fatim Fayiah, Kaylee Heuving, Kevis Joshi, Alim Kale, Christine Katrib, Moses Khouri, Aydin Kilciler, Cuneyd Kocagoz, Toaila Liutai, Linisei Mohenoa, Tiana Wong, Adam Nguyen, Elijah Willems, Charbel Younan
Congratulations, and best of luck with your future in the Fast Forward program
Alexander Peronace
Facebook | Delany
16 Sep 2022

Delany students were invited to attend the Fast Forward Year 11 University Day at Western Sydney University, Liverpool Campus. Students participated in many activities which focused on: → Identification and application of essential transferable skills 💡 → Exploration of career possibilities tailored to personal skill strengths and interests 🏢🧑‍💼 → Developing students' awareness of, and familiarity with, the university environment 🎓 The day ended with a creative RAP performance highlighting the positive impact of future study 📜 and pathways beyond school.

15 Sep 2022

It's a battlefield out there... when Mr Zagas' Y11 Modern History class creatively used classroom tables and nerf guns 🔫 on our field area to simulate charging a machine gun bunker in World War One's Western Front ⚔️💣