Mock Trial Team Enjoys First Round Success
24 Jun 2017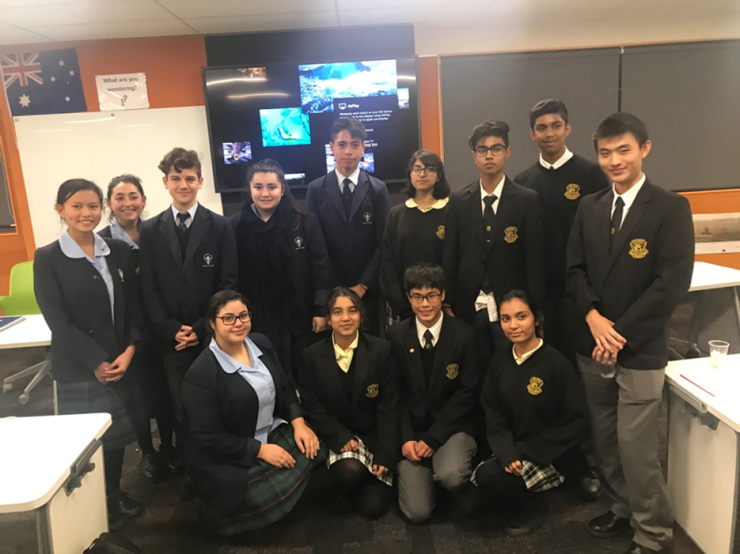 Delany College competed with an academic selective high school named Girraween High School; Delany as the Prosecution and Girraween as Defence. The case in this round involved a football player named Judy Morrison being accused of corrupting the game by purposely missing the penalty shots in order to gain financial advantage.
The prosecution team, which was our team, needed to prove this beyond reasonable doubt whilst the competing team had to raise a doubt.
We had a close match however Delany College won by 10 points. We had a strong set of students acting as barristers (Mary and Marie ), witnesses (Aiden and Chanel), solicitor (Vincent), Court Officer, Chanel Chamoun, and a special acknowledgement for Yara Fakoua, who helped the witnesses to prepare.
Alongside the students were the two mentors/teachers (Ms Shwan and Mrs Venhuizen) who had helped each and every member to reach their capabilities.
As the two barristers for this round, we were anxious on whether we would win, due to the previous round. However, as a collective, we were resilient enough to have improved our skills, therefore, winning the case. We objected to all the relevant objections and were extremely confident to win the case.
As said at the assembly, being eloquent yet firm was the way to win, and thus this theory was proven with this immense achievement.
We will be moving to the next round and are thriving with enthusiasm about it.
Mary Ghribian and Marie Peralta, Year 10
Students Mock Trial Team Members
Facebook | Delany
15 Nov 2022

A group of Y9 students were excited to take part in their first Western Sydney University Day at the Parramatta South campus. The theme was 'Rise to the Challenge' and, along with several other schools from the local area, students took part in activities that explored their multiple intelligences and problem solving skills. The highlight of the day was exploring the campus as part of a scavenger hunt! 🕵️🧩Students are excited for the next part of the program that will take place in Y10.

12 Nov 2022

We're looking forward to a wonderful night. Come and join us in celebrating and recognising the great achievements of our students!