Delany College wins prestigious award
05 Sep 2017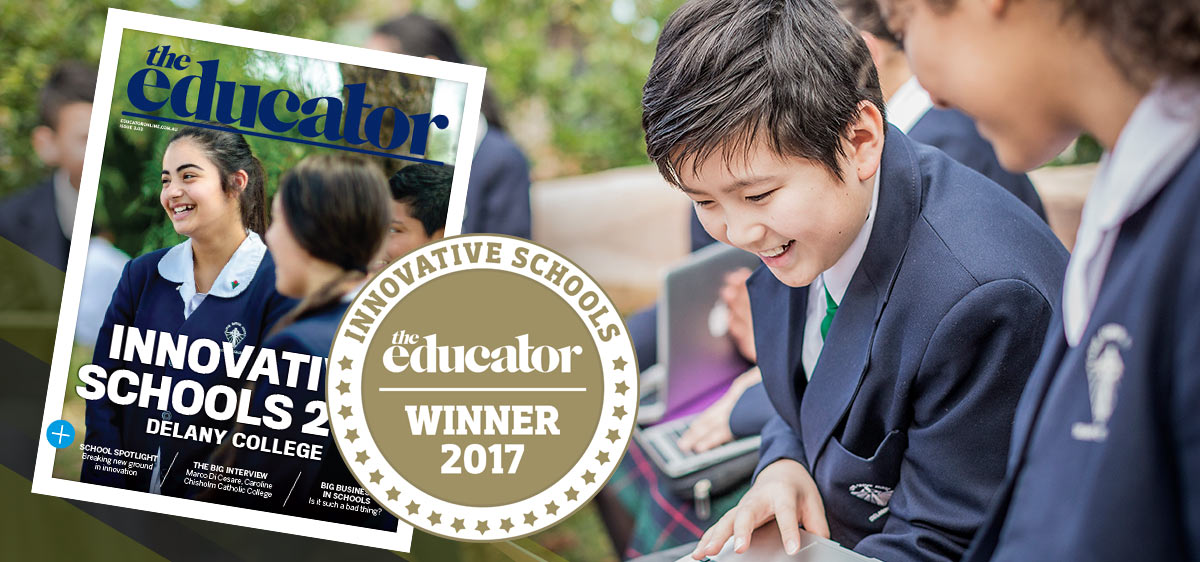 Delany College has been ranked alongside with some of Australia's best schools after being named a Winner in The Educator magazine's Innovative Schools Awards.
In its third annual Innovative Schools list, The Educator turns the spotlight on just 40 Australian schools leading the way in teaching and learning and Delany was ranked in the same company as Knox College, Melbourne Girls Grammar and Geelong Grammar.
The judges were impressed with initiatives introduced at Delany College have resulted in significant improvements in NAPLAN results, particularly in the area of maths.
Principal Robert Muscat said it was an honour to lead a school community that recognises the need to transform our students by equipping then with the tools to face an ever changing world.
"Delany College makes it a priority to ensure the teaching staff have the support and expertise to accommodate student learning needs."
Delany College places an emphasis on 4 C's: creativity, critical reflection, communication and collaboration. Its strategies also seek to ensure the student, rather than the content, is always at the centre of the learning.
Another innovation that impressed judges was its case management system, involving groups of teachers from all disciplines meeting fortnightly to discuss students who are 'stuck' in their learning journey.
The teachers use all data available to them and closely examine behavioural issues in their efforts to identify and address the learning block. The group effort means solutions are determined and breakthroughs made.
This process is supported by a Super Data system, providing teachers with the ability to follow the progress of every student and use the information to design learning experiences targeted to student needs.
And there is project-based learning (PBL) that is playing an integral role in students' learning, and versatile learning spaces have been created in order to accommodate PBL activities.
A spokesperson from the Educator said the magazine received a plethora of submissions from schools in all corners of the country, bringing to our attention some truly inspiring work being undertaken to equip students with the tools that will help them to face a world vastly different from the one we currently know.
Schoolbox co-founder Sean Richards and Digistorm managing director Tim Oswald - sponsors of the competition - said it was encouraging to see the innovative and creative practices that were put forward this year and we are excited to commend all of the entrants who made this year's Innovative Schools list – congratulations.
"We hope that the efforts of the finalist schools will inspire other schools around Australia to think outside the box and push forward with technological advancements in K–12 education," they said.
"This is an incredible demonstration of the great opportunity for innovation and change within our industry."
---
Read about Delany College at the Educator Online
Facebook | Delany
16 Sep 2022

Delany students were invited to attend the Fast Forward Year 11 University Day at Western Sydney University, Liverpool Campus. Students participated in many activities which focused on: → Identification and application of essential transferable skills 💡 → Exploration of career possibilities tailored to personal skill strengths and interests 🏢🧑‍💼 → Developing students' awareness of, and familiarity with, the university environment 🎓 The day ended with a creative RAP performance highlighting the positive impact of future study 📜 and pathways beyond school.

15 Sep 2022

It's a battlefield out there... when Mr Zagas' Y11 Modern History class creatively used classroom tables and nerf guns 🔫 on our field area to simulate charging a machine gun bunker in World War One's Western Front ⚔️💣