Delany student shines in Bishop's Awards for Student Excellence
08 Sep 2017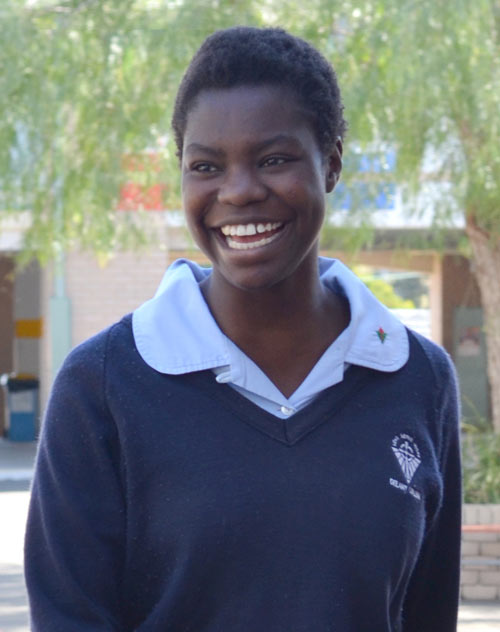 Nora Monday was was the Delany College recipient of the 2017 Bishop of Parramatta Award for Student Excellence presented by Bishop Vincent Long OFM Conv on Thursday 7 September.
The awards are given each year to an outstanding student in every Catholic secondary school in the Diocese of Parramatta. This year's awards were presented after vespers in St Patrick's Cathedral in Parramatta.
Delany's Principal, Robert Muscat, said Nora had been a school leader who carried out her duties in a meticulous and committed manner at all times. "These leadership traits were also evident during the Diocese's pilgrimage to World Youth Day 2016 in Poland when Nora represented the school," he said.
Nora received a citation that acknowledged her consistently high academic achievements and noted that she is an enthusiastic participant in various extracurricular and representative sporting events.
Mr Muscat said Nora's diligent application to her studies, her exemplary conduct as a school leader, her participation in extracurricular activities and her contribution to the school community made her a worthy recipient of the Bishop of Parramatta Award for Student Excellence.
Facebook | Delany
15 Nov 2022

A group of Y9 students were excited to take part in their first Western Sydney University Day at the Parramatta South campus. The theme was 'Rise to the Challenge' and, along with several other schools from the local area, students took part in activities that explored their multiple intelligences and problem solving skills. The highlight of the day was exploring the campus as part of a scavenger hunt! 🕵️🧩Students are excited for the next part of the program that will take place in Y10.

12 Nov 2022

We're looking forward to a wonderful night. Come and join us in celebrating and recognising the great achievements of our students!