Delany student shines in Bishop's Awards for Student Excellence
08 Sep 2017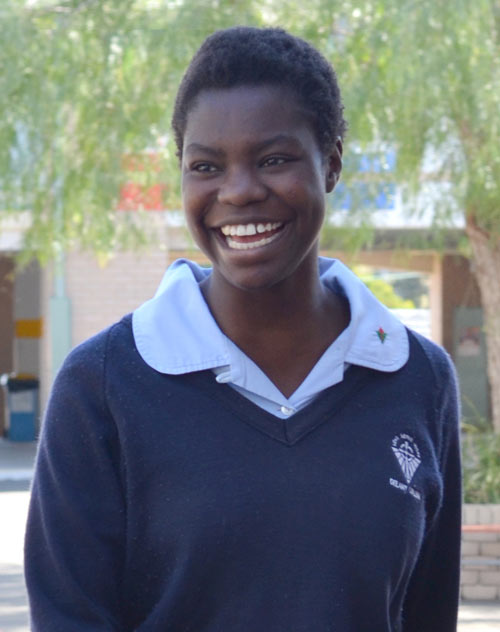 Nora Monday was was the Delany College recipient of the 2017 Bishop of Parramatta Award for Student Excellence presented by Bishop Vincent Long OFM Conv on Thursday 7 September.
The awards are given each year to an outstanding student in every Catholic secondary school in the Diocese of Parramatta. This year's awards were presented after vespers in St Patrick's Cathedral in Parramatta.
Delany's Principal, Robert Muscat, said Nora had been a school leader who carried out her duties in a meticulous and committed manner at all times. "These leadership traits were also evident during the Diocese's pilgrimage to World Youth Day 2016 in Poland when Nora represented the school," he said.
Nora received a citation that acknowledged her consistently high academic achievements and noted that she is an enthusiastic participant in various extracurricular and representative sporting events.
Mr Muscat said Nora's diligent application to her studies, her exemplary conduct as a school leader, her participation in extracurricular activities and her contribution to the school community made her a worthy recipient of the Bishop of Parramatta Award for Student Excellence.
Facebook | Delany
16 Sep 2022

Delany students were invited to attend the Fast Forward Year 11 University Day at Western Sydney University, Liverpool Campus. Students participated in many activities which focused on: → Identification and application of essential transferable skills 💡 → Exploration of career possibilities tailored to personal skill strengths and interests 🏢🧑‍💼 → Developing students' awareness of, and familiarity with, the university environment 🎓 The day ended with a creative RAP performance highlighting the positive impact of future study 📜 and pathways beyond school.

15 Sep 2022

It's a battlefield out there... when Mr Zagas' Y11 Modern History class creatively used classroom tables and nerf guns 🔫 on our field area to simulate charging a machine gun bunker in World War One's Western Front ⚔️💣