Delany student shines in Bishop's Awards for Student Excellence
08 Sep 2017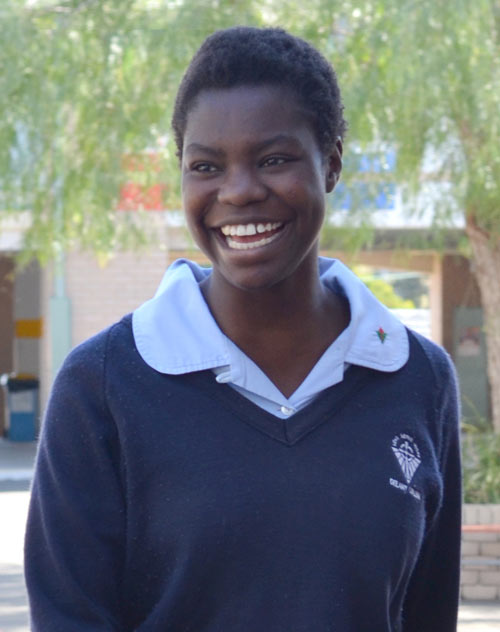 Nora Monday was was the Delany College recipient of the 2017 Bishop of Parramatta Award for Student Excellence presented by Bishop Vincent Long OFM Conv on Thursday 7 September.
The awards are given each year to an outstanding student in every Catholic secondary school in the Diocese of Parramatta. This year's awards were presented after vespers in St Patrick's Cathedral in Parramatta.
Delany's Principal, Robert Muscat, said Nora had been a school leader who carried out her duties in a meticulous and committed manner at all times. "These leadership traits were also evident during the Diocese's pilgrimage to World Youth Day 2016 in Poland when Nora represented the school," he said.
Nora received a citation that acknowledged her consistently high academic achievements and noted that she is an enthusiastic participant in various extracurricular and representative sporting events.
Mr Muscat said Nora's diligent application to her studies, her exemplary conduct as a school leader, her participation in extracurricular activities and her contribution to the school community made her a worthy recipient of the Bishop of Parramatta Award for Student Excellence.
06 Nov 2023

This event will allow high school students and graduates the opportunity to have conversations and coaching sessions with experts from their desired field.

08 Sep 2023

Apply for the 2024 Teacher Scholarship Program today. Applications close Monday, 9 October 2023!
Facebook | Delany
05 Sep 2023

A team of 27 students from Delany College attended the PDSSSC Athletics Carnival last Monday. This group of athletes competed in a number of track and field events at the Athletics Centre, Sydney Olympic Park. A special mention goes to our Year 7 student, Philip Kabia, who won Gold in the 12 year old boys 200 metres race 🥇🏃🏾‍♂️ AND Silver in the 100 metres sprint🥈 ⭐WHAT AN ACHIEVEMENT⭐

15 Aug 2023

From 29 July to 4 August Daniel Thwaites and his team (Ryde Hawks) played in the '2023 Senior Baseball League World Series', held in Easley, South Carolina. Representing Australia, their first game was successful beating Latina America 3-1. Winning the next couple of games secured their place in the championship game. Unfortunately, it wasn't meant to be and the team went down by 4 runs to Mexico. The loss eliminated Ryde Hawks from contention at the World Series event. The team successfully placed third, earning their place in the top three in an International World Series. We are extremely proud of Daniel on this achievement.