Young Western Sydney leaders recognised for excellence
12 Sep 2023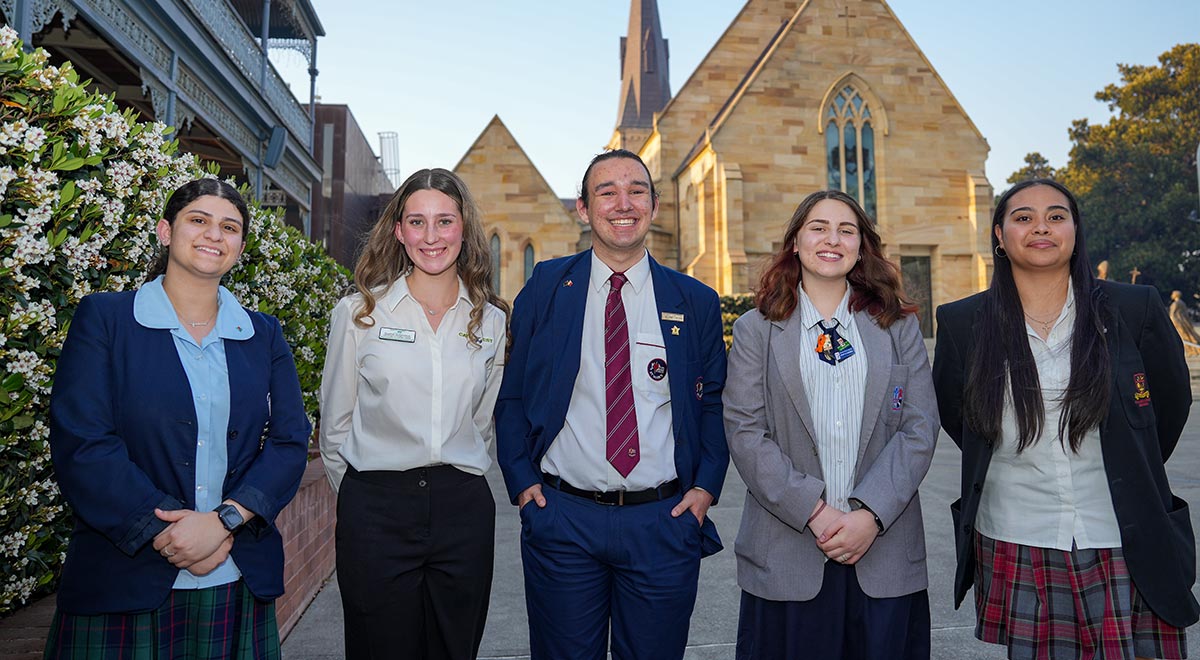 Hundreds of students, staff and families from schools throughout the Diocese of Parramatta and local community leaders came together at St Patrick's Cathedral Parramatta to recognise 31 outstanding students last week.
Each of these extraordinary young leaders is a recipient of the 2023 Bishop's Award for Student Excellence.
The award recognises a student's contribution to their school and local community while also reflecting the contribution of families and Catholic schools in supporting students to achieve excellence at school.
"The honour we bestow on students tonight recognises not only what they have done but also the positive attitude with which they have imbued their environments and relationships," said Diocese of Parramatta Bishop Vincent Long.
They share the honour with loved ones and others who have supported them and made it possible for them to give the best of themselves.
"There is a line in one of the citations tonight that defines excellence in a single sentence. It's about being the best version of yourself," said Catholic Schools Parramatta Diocese Executive Director Jack de Groot. "How you work in your local communities not for reward, but because there is a need, how you are friends to one another, how you are present to those who need you."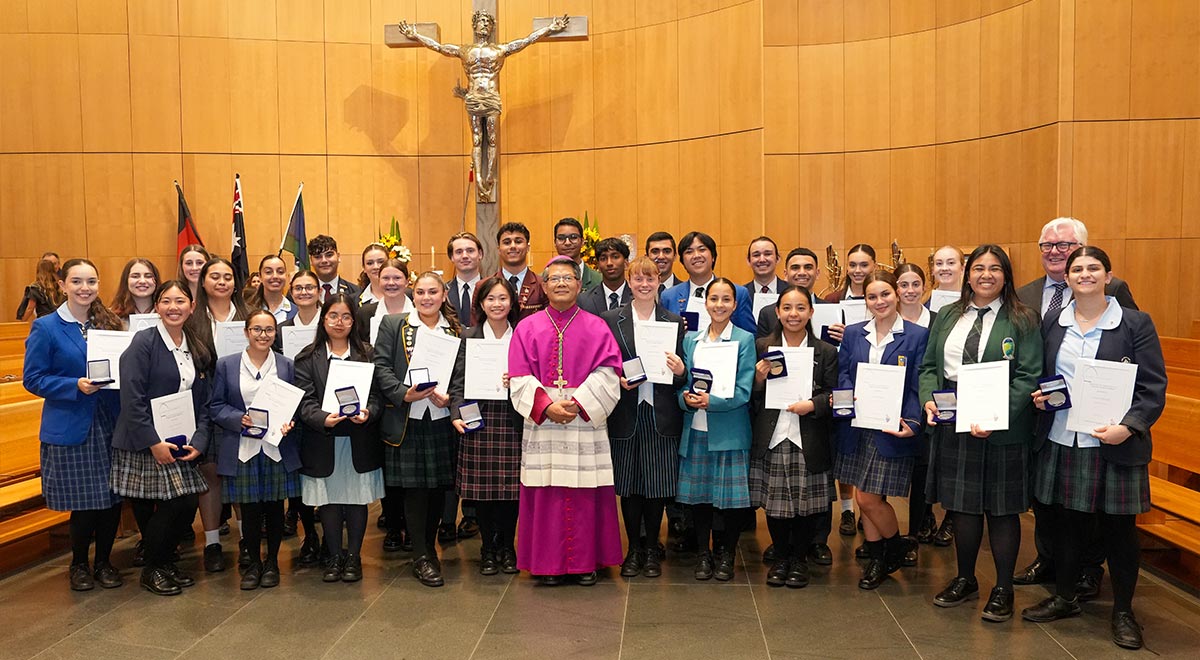 The Bishop's Awards exemplify all that is good in Catholic education, showcasing the exceptional virtues, attitudes, knowledge and skills of an education centred on the person of Jesus Christ. The ceremony was attended by dignitaries including Donna Davis, MP State Member for Parramatta; Edmond Attalla, MP State Member for Mount Druitt; Hugh McDermott, MP State Member for Prospect; Councillor Sameer Pandey, Lord Mayor of Parramatta along with Catholic Schools Parramatta Diocese board members and Catholic Schools NSW representatives.
"We got to see students from right across the entire Diocese being recognised for all their hard work," said Emmaus Catholic College Acting Principal Greg Malone. "It's really the culmination of so many years of hard work these students have put into being who they are today. It's testament to their families for all the hard work they do in nurturing these fantastic young adults."
Among the Award recipients is Delany College Granville's Claressa Bechara. The youngest of four children, Claressa is part of the school's Student Representative Council, regularly volunteers for various charities and participates in all aspects of College life.
"My brothers and sisters all went to Delany so it felt natural for me to get really involved in lots of things here at school," said Claressa. "I've got a disability, so for my school and the Bishop to recognise me with this award... to see me for who I am more than what I am is really humbling. I'm so proud to represent everyone and show that you can stand outside your comfort zone and outside stereotypes and really make a difference in your community."
"We are so proud of the way Claressa displays faith and is always willing to help others," said her parents Hafiza and George.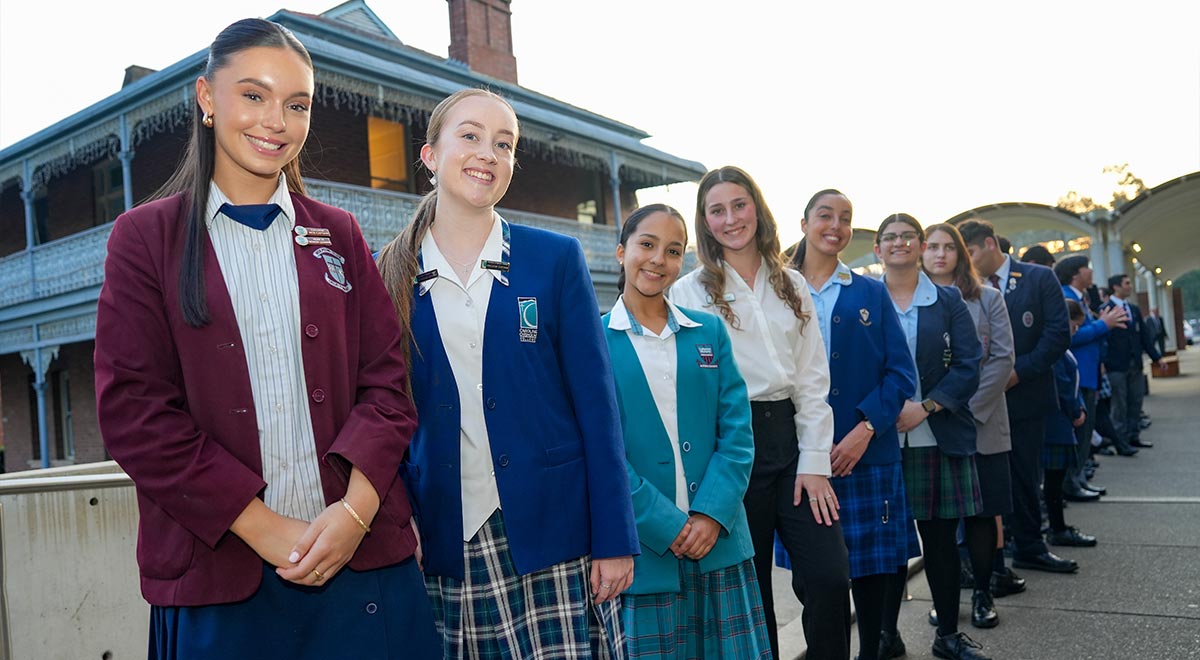 Charlee Rose Murtough-Coombes from Emmaus Catholic College Kemps Creek is another student who has been recognised for making a wonderful contribution to her school community.
"I've loved my time at Emmaus," said Charlee Rose. "I always got every single opportunity I wanted to explore with academics and music. I even tried sport for a while. The school will try to give you every opportunity and always helps you to succeed in whatever you're doing.
"My husband and I are so proud of Charlee Rose," said her mother Judi Murtough-Coombes. "She is such a dedicated and determined young lady who is not only an exceptional student, but is a constant support to her friends and anyone who she sees needing an ear, helping hand or intervention."
Leila Soares Taran from St Clare's Catholic High School Hassall Grove was commended for her humility, compassion, integrity and fortitude through her years at the school where she is regularly involved in sacramental and liturgical celebrations and as an invaluable member of the Student Leadership Team.
"I think it has a lot to do with our school motto 'Praise God by Your Life'," said Leila. "That's a good way to sum up my journey and my achievements. I'm very proud."
Nagle College Blacktown's Jessica Gafa was recognised for contributing to the faith life of the College through band and vocal ensemble and also for her success in the Step Up to Teaching program at Australian Catholic University.
"Jessica has always been a child to show empathy and kindness to all," said Jessica's parents Michelle and Christopher Gafa. "She is a credit to herself and it is so rewarding to see that others have noticed her beautiful spirit and nature."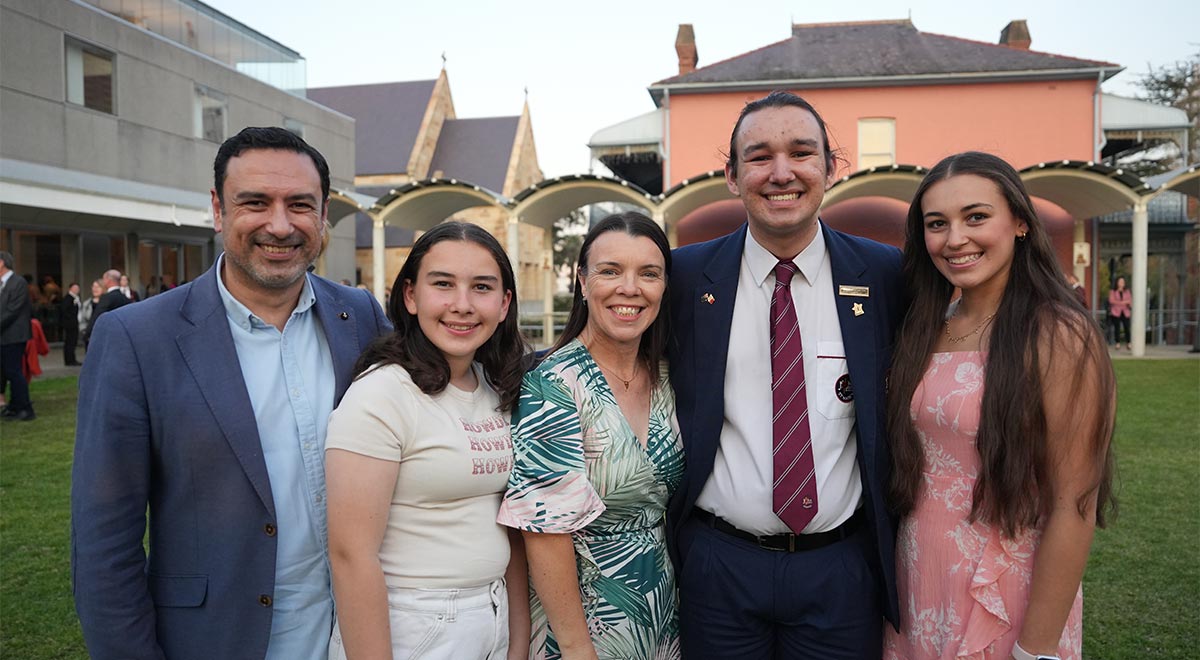 A member of Catholic Youth Parramatta, Ethan Zammit, 2023 College Captain at St John XXIII Catholic College Stanhope Gardens said it was a tremendous honour to receive the award, having spent his entire life in the school community.
"It's really cool to win this award," he said. "I was baptised at St John XXIII church, I went to St John XXIII primary and now being able to represent St John XXIII Catholic College and wear that on my chest is something I'm very proud of."
06 Nov 2023

This event will allow high school students and graduates the opportunity to have conversations and coaching sessions with experts from their desired field.

08 Sep 2023

Apply for the 2024 Teacher Scholarship Program today. Applications close Monday, 9 October 2023!
Facebook | Delany
05 Sep 2023

A team of 27 students from Delany College attended the PDSSSC Athletics Carnival last Monday. This group of athletes competed in a number of track and field events at the Athletics Centre, Sydney Olympic Park. A special mention goes to our Year 7 student, Philip Kabia, who won Gold in the 12 year old boys 200 metres race 🥇🏃🏾‍♂️ AND Silver in the 100 metres sprint🥈 ⭐WHAT AN ACHIEVEMENT⭐

15 Aug 2023

From 29 July to 4 August Daniel Thwaites and his team (Ryde Hawks) played in the '2023 Senior Baseball League World Series', held in Easley, South Carolina. Representing Australia, their first game was successful beating Latina America 3-1. Winning the next couple of games secured their place in the championship game. Unfortunately, it wasn't meant to be and the team went down by 4 runs to Mexico. The loss eliminated Ryde Hawks from contention at the World Series event. The team successfully placed third, earning their place in the top three in an International World Series. We are extremely proud of Daniel on this achievement.